New 40-unit apartment complex taking shape in Albion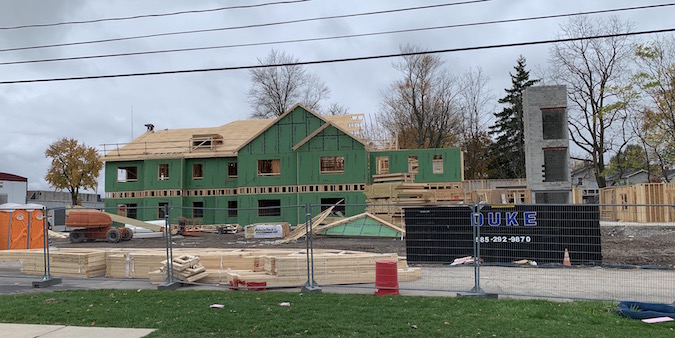 Photo by Tom Rivers
ALBION – Workers from Christa Construction of Victor are making progress on a 40-unit apartment project in Albion.
Construction of project for DePaul Properties of Rochester started in spring after three houses were removed last year on Liberty Street to make room for the new building. The complex is located between the railroad tracks and Beaver Street.
That block will be home to the DePaul Boxcar Apartments, which will have 36 one-bedroom units and four two-bedroom units. The one bedroom units can have up to two people and the two-bedroom apartments have room for up to four people.
DePaul is aiming for a November 2021 move-in date for tenants. DePaul is designing the project to support people with disabilities, including senior citizens and veterans. The organization will do extensive background checks for credit, criminal and sex offender history and evictions.
The site will be enhanced with safety features that allow ageing in place, with details that address mobility issues, lighted ADA bathrooms and appliances, DePaul officials have said. Twenty of the apartments will offer on-site supported housing supports for persons that are frail-elderly or those with in recovery for mental health. All units are one-year leases with an on-site property manager, full-time maintenance person and security on nights and weekends.