New 4-H road signs coming to Orleans County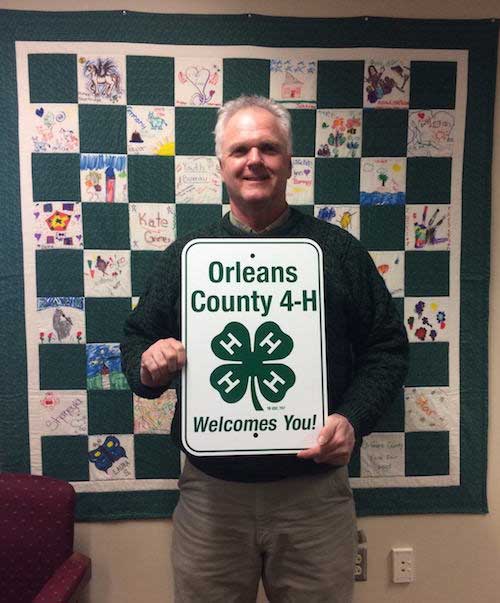 Provided photo
KNOWLESVILLE – Joe Sidonio of Murray holds one of the new 4-H signs he paid for and donated to the Cornell Cooperative Extension of Orleans County.
Sidonio donated seven road signs. Five will replace existing signs – one of Route 98, and two each on Route 31 and Route 104. The Extension would like to have two signs installed on Route 31A at the entrance of Orleans County by the Monroe County line and the Niagara County line.
"Several of the signs are rusted to the point where they are barely legible," said Robert Batt, 4-H educator.
Sidonio donated the the signs to help celebrate the 100th anniversary of the 4-H program. His wife Amy Machamer is a former board member for the local Extension and their daughter, Amelia, has been a 4-H member for several years.
Batt said the new signs should go up in the spring. The five that will replace existing signs should be an easy swap, but the two planned for 31A will require a permit from the state Department of Transportation. If that permit is difficult to obtain, Batt said the signs planned for 31A may be installed at the 4-H Fairgrounds at Knowlesville.
"We just think it's a good way to showcase that there is a strong and vibrant 4-H program in Orleans County, and the signs will also give people a reason to smile," Batt said.