Nearly 700 wreaths set at veterans' graves in Lyndonville, Medina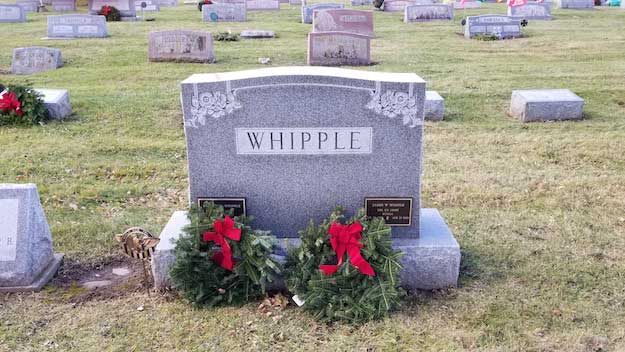 Provided photos
LYNDONVILLE/MEDINA – Volunteers last Saturday set nearly 700 wreaths at veterans' graves in Lyndonville and Medina, including this one pictured at top at the grave of James Whipple, a Korean War veteran who died on April 25 at age 91.
There were 402 wreaths placed at veterans' graves at six cemeteries in Lyndonville. Seven memorial wreaths were laid in honor of the Army,  Marine Corps,  Navy, Merchant Marines, Coast Guard, Air Force and POWs. Veterans buried in Lyndonville are from every conflict the United States starting with the Revolutionary War.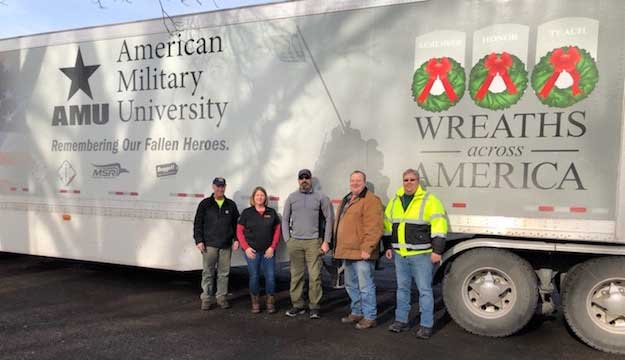 This is the first time Lyndonville participated in the Wreaths Across America. The event was made possible by an endowment fund established by Miss Anna Stelianou in memory of her parents and her five brothers. Those brothers all served in the U.S. military during World War II and the Korean War.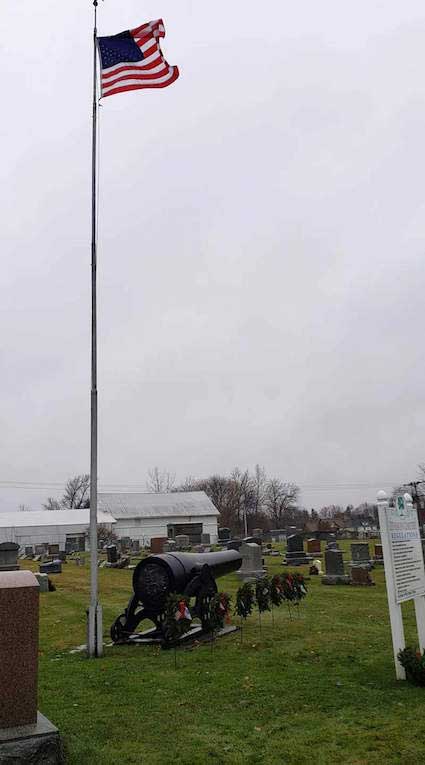 Approximately 50 volunteers helped to lay the wreaths in Lyndonville, including at Lynhaven Cemetery.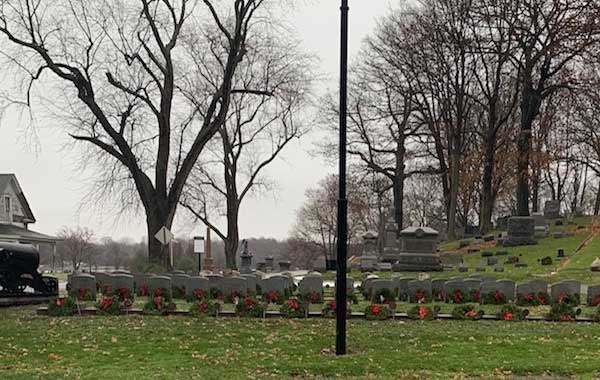 Boxwood Cemetery in Medina also is participating in Wreaths Across America, one of 2,100 cemeteries involved in the effort this year.
Boxwood first took part in Wreaths Across America in 2013. Only nine wreaths were placed that first year, said Kathy Blackburn, who has organized the event each year.
"This year, we had 261 wreaths, the largest number yet," she said. "It grows every year, and this year was so successful because of a $1,900 donation from the veterans' program called Peer to Peer. The VFW, American Legion, Junior Wilson's Club and Sacred Heart Club are all generous donors to this program, along with individual supporters."
Even with the terrible weather, with rain and cold, the turnout was bigger than ever, and even included Medina Girl Scouts, Blackburn said.
"We saw many more families who brought their children to help place wreaths," she added. "It was very moving to see these kids learning what it takes to have our freedom, and I can't thank the parents enough for bringing their children to learn and honor."
Members of the Boxwood Commission placed ceremonial wreaths for each branch of the service. In addition, Assemblyman Stephen Hawley from Batavia placed the POW wreath.
A veterans' honor guard was led by Jim Freas of Medina.
The national Wreaths Across America organization is sponsoring a program from now until Jan. 15. If anyone goes online and orders a wreath for the December 2020 ceremony, the organization will match each donation.