Nearly 400 complete Mr. Ed's Super Bowl 5K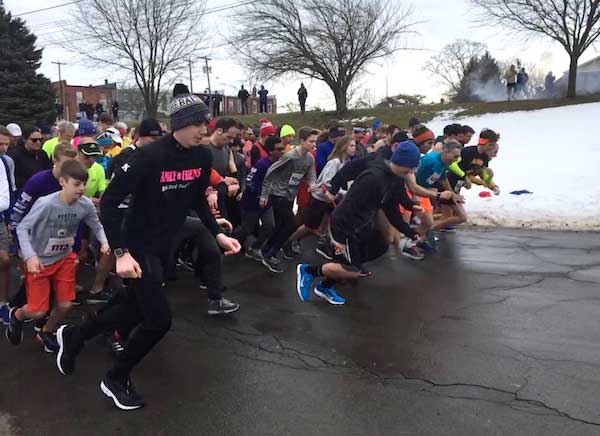 Photos by Tom Rivers
MIDDLEPORT – Runners take off at the start of the Mr. Ed's Super Bowl Warm-Up race in Middleport today.
Nearly 400 runners completed the course with temperatures in the 40s following a recent hard stretch of bitterly cold days.
Joseph Moberg of Wilson was the overall male finisher with a time of 17:16, just ahead of 14-year-old Reuben Rivers of Albion, 17:28.
Other top 50 finishers from Orleans County include: Troy Callard of Medina, 12th overall at 20:42; Richard Hartway of Medina, 19th at 21:19; Aedan Bunch of Medina, 35th at 22:08, and Douglas Herbert of Medina, 49th at 22:56.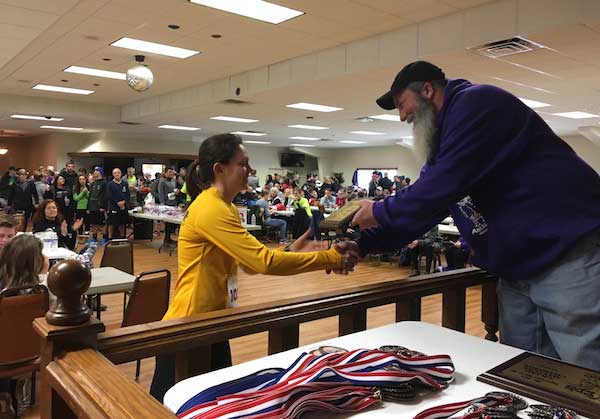 Kimberly Mills of Oakfield was the fastest woman with a time of 21:36. She accepts the first-place finisher plaque from Don Heschke, one of the race organizers.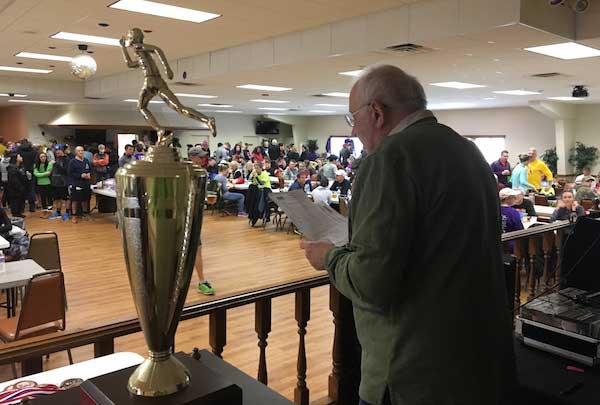 Jack Kiebala, one of the long-time race organizers, welcomes the runners to awards celebration inside the Middleport fire hall. The big trophy goes to a fire department with the winning relay team. Kiebala is a retired Medina math teacher and girls track and field coach.
The race is one of the biggest local 5k runs, attracting participants from all around Western New York and nearby Ontario.
Proceeds from the event go to fund scholarships for Roy-Hart grads pursuing careers in law enforcement or emergency medical services (firefighting or EMTs).
---
You're here checking the site, so you know: Orleans Hub is a vital resource for our community. Day in and day out, we share information and insights that matter to those who live and work in the towns, villages and hamlets of our county. Local advertisers help make the Hub possible, and so can you.

Donate today to keep Orleans Hub healthy and accessible to all. Thank you!
---