Nearly 25,000 attended Orleans County 4-H Fair
KNOWLESVILLE – There were about 24,500 people who attended the Orleans County 4-H Fair for six days last week, not including the vendors and exhibitors.
That attendance is about average for the fair, said Robert Batt, executive director of the Cornell Cooperative Extension in Orleans County, which runs the fair.
However, Batt said the 24,500 is impressive given the rain early in the week and threats of bad weather later in the week.
"We consider it a big success because of the forecast and threat of the storms," he said.
The parking lot off Wood Road was sold out or nearly full on many of the evenings, which pushed more parking to two parking areas off Taylor Hill Road.
Parking per vehicle was increased to $7 this year. The fair estimated the carloads were bigger this fair, averaging about 3.75 people per vehicle.
The Orleans fair is a youth fair where alcohol isn't allowed. There also isn't a demolition derby or big-name bands.
The focus is on 4-H exhibitors, with other entertainment, including midway rides.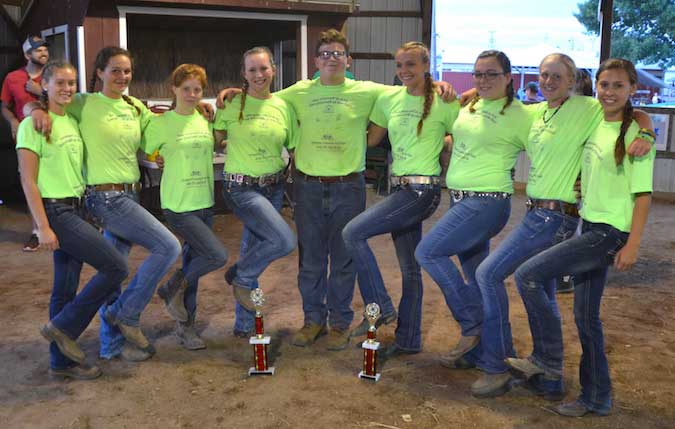 These nine 4-H'ers competed in the grand master showmen competition on Friday, featuring the top showmen from nine different breeds of animals. They include, from left: Emma Mathes, master showman for meat goats; Kaylee Nesbitt, beef cattle; Jamie Schieber, llamas; Rylie Lear, swine; Will Trembley, sheep; Nicole Mryzwka, dairy goats; Liz Jurs, dairy cattle; Madison Bale, horse English; and Morgan Bakutis, horse Western.
The master showmen had to show nine different types of animals. Lear won the competition as grand master showman with her cousin Mryzwka the reserve champ.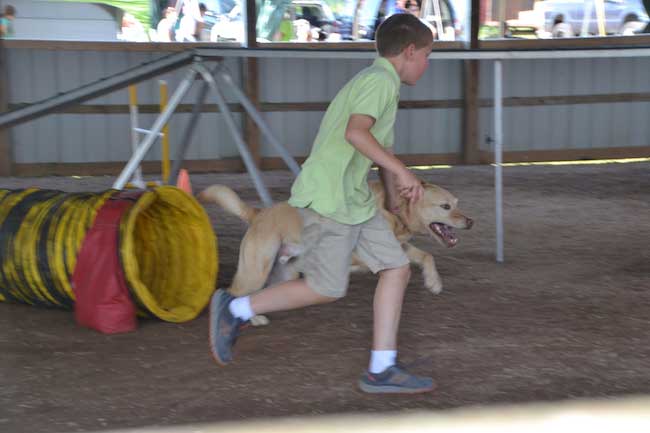 Andrew Uderitz of Albion leads his dog Tank through agility tests on Friday morning, including passing through a tunnel.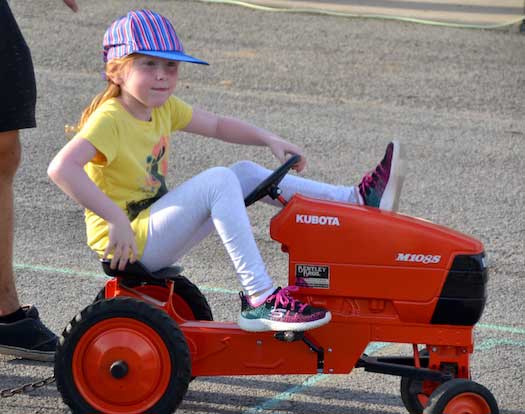 Colette Randolph, 5, of Knowlesville gets ready to do the small fry pedal tractor pull.