Nearly 200 will play in Medina reunion band for Memorial Day Parade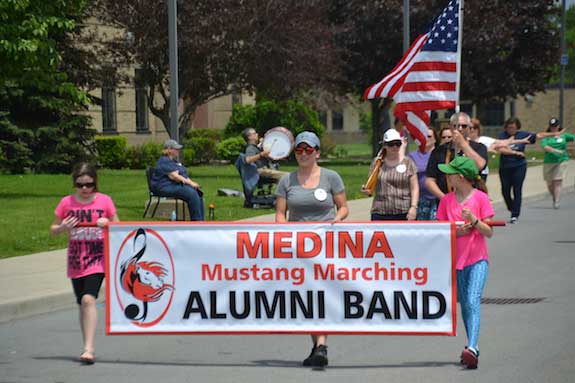 Photos by Tom Rivers
MEDINA – Medina graduates who played in marching band are out rehearsing today for Monday's Memorial Day Parade at 11 a.m. from downtown to State Street Park. The marching band is celebrating 50 years of competing in competitions, including many state championships.
Joe McKain was the band director in the fall of 1967.
"He took it to a whole new level," said  Alana Kozody Koneski, a 1973 graduate.
She has been helping with the reunion plans, and will be part of the band's performance on Monday in the parade.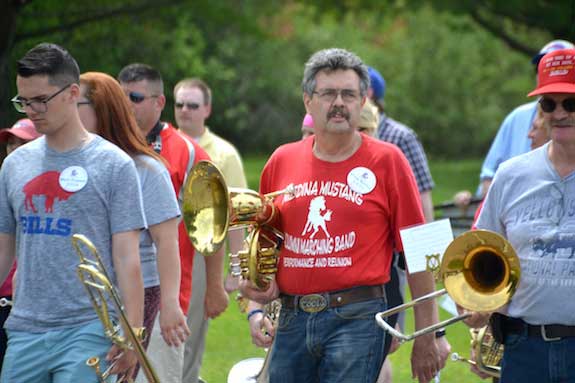 Greg Nellist, center, also has been working on the 50th anniversary celebration. Nellist graduated in 1975. The band was able to collect about 400 contacts of former band members. For the parade on Monday, 168 graduates have signed up to play with at least one representative from 47 graduating classes.
This will be the biggest reunion for the band. In 2005 and 2006, Nellist said smaller groups played during the homecoming football game.
Nellist would like to see the band get together for a bigger reunion every five years, with the possibility of forming a concert band that could perform during the year.
The band had a get-together on Friday evening at the Sacred Heart Club with about 175 people. They looked at old photographs of the band, watched videos of competitions and enjoyed some fellowship.
Today they are rehearsing for several hours before enjoying at picnic together at 3 p.m.
"Band members here share almost a spiritual connection," Nellist said. "Once you're a band geek, you're always a band geek."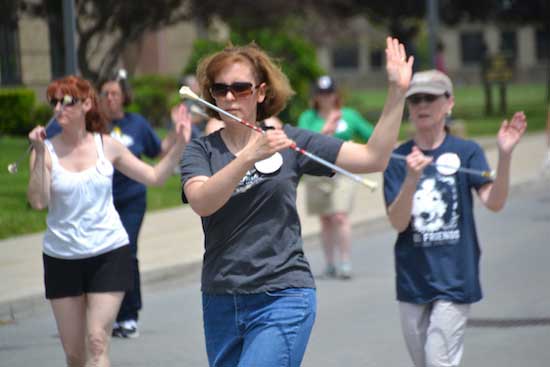 Some of the band's twirlers go over their steps during today's rehearsal.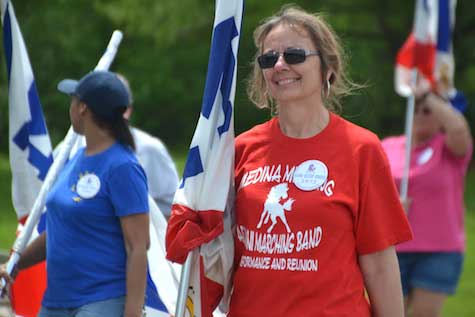 Alana Kozody Koneski, Class of 1973, remains a big advocate for the band.
"The band to me is one of the best organizations a child can get into," she said. "It teaches discipline and how to work together as a unit."
The band has stayed strong for a half century. Nellist said that is a tribute to the community, which has stayed behind the band.
Monday's performance by the alumni band is also a chance for the band graduates to thank the community.
"They have supported us for 50 years," Nellist said. "For as small as this community is, and for as this community is, they have always been behind us."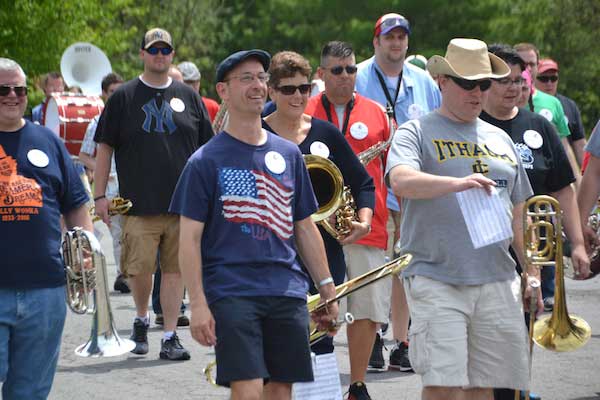 Brian Kozody, a 1985 graduate, and Jim Lichtenthal, Class of 1989, enjoy today's rehearsal for the alumni band.
Nellist, who now works as an industrial electrician, said the band has endured because it enjoyable for the kids.
"The main thing about the band is we wanted to have fun," Nellist said. "We were no where's near as good as the kids are today. These kids today are phenomenal."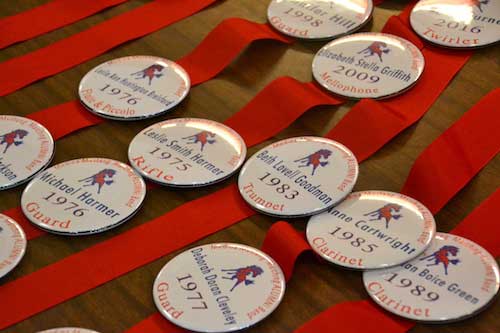 Buttons say the band members' names, the year they graduated, and what instrument or role they had with the band.