Nearly 100 complete first 5K of year in Orleans County
Runners released in waves every 10 minutes at Wayne Burlison Colon Cancer Awareness 5K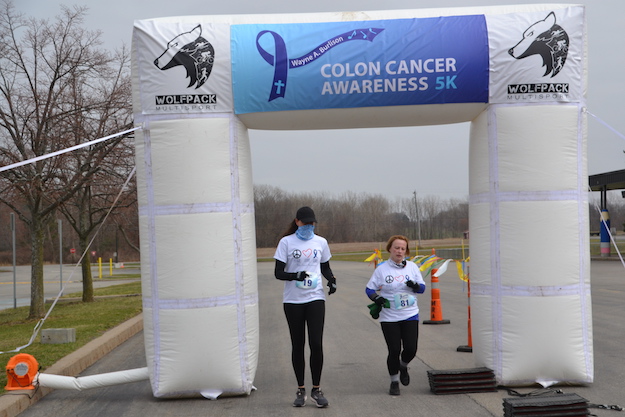 Photos by Tom Rivers
ALBION – Emily Douglas of Oakfield, left, and Nicole Zinkievich of Medina cross the finish line at Wayne Burlison Colon Cancer Awareness 5K on Saturday in Albion. The race ended in the parking lot at the elementary school.
The event was first 5K of 2021 in Orleans County with nearly 100 completing the distance. That included 69 on the course in person with another 11 who did the 3.17 miles virtually. More are expected to do the race virtually.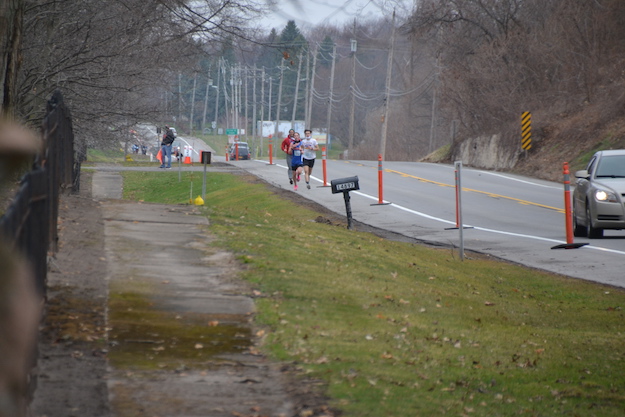 Most of the course went along Route 31 from the elementary school to Mount Albion Cemetery and back.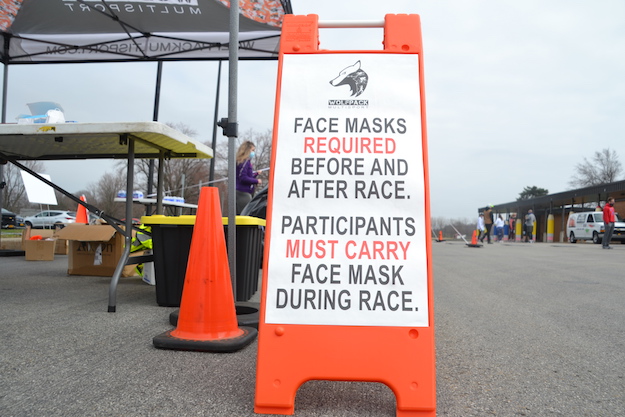 The race was cancelled a year ago during the early stages of the Covid-19 pandemic. This year's race included precautions against Covid. There was no large gathering at the start or finish of the event.
The runners were also released in smaller groups of no more than 25 every 10 minutes, with groups starting at 1 p.m., 1:10, 1:20 and 1:30. People also had the option of doing the distance virtually at a different time and location.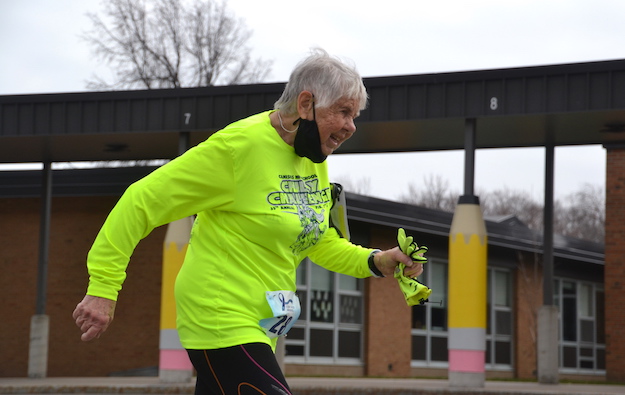 Edna Hyer of Orchard Park is close to the finish line. She won the 80 and over age group for women.
Michael Dee of Syracuse won the race in a time of 16:47 for the men. The fastest woman was Mary Bostwick of Cheektowaga in 25:36.
The race was organized by Wolfpack Multisport. That group is planning for the Albion Strawberry Festival 5K/8K in Albion on June 12. The main festival has been cancelled but there will be other events that day, including the 5K/8K.
The Wayne Burlison Colon Cancer Awareness 5K started in 2015 to honor the memory of an Albion elementary music teacher who died at age 36 from colon cancer on March 26, 2014.  The "Run for Wayne" highlights the second leading cancer death among men, but is often treatable if detected in the early stages.
The race is slighter longer than a typical 5K at 3.17 miles. Burlison lived 3 months and 17 days after he was diagnosed with colon cancer.
Burlison was active in several musical groups in the community and also helped start the Albion Running Club. He lost more than 150 pounds through better nutrition and exercise and completed a marathon and half-marathons.