National Grid has 6 customers left without power in Orleans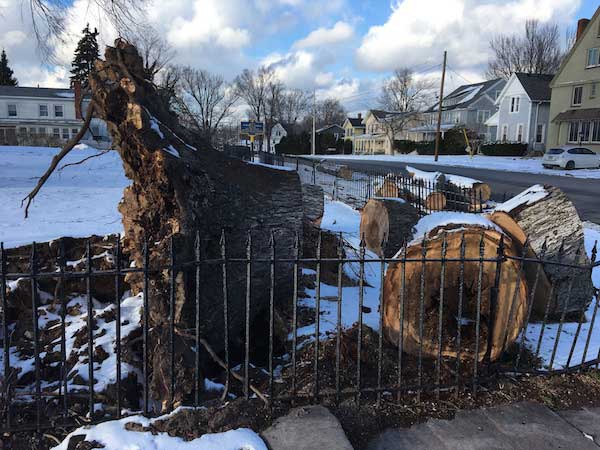 A tree at the Merrill-Grinnell Funeral Home at the corner of East State and Ingersoll streets was uprooted and knocked over in Wednesday's wind storm. The tree damaged the wrought-iron fence on the perimeter of the property.
Orleans County is nearly fully restored from the widespread power outages from the storm. National Grid reported at 9:46 p.m. that six customers in Orleans, and 20 in upstate, remained without electricity. In Orleans, there those remaining customers were in Barre, Kendall and Carlton waiting to be restored.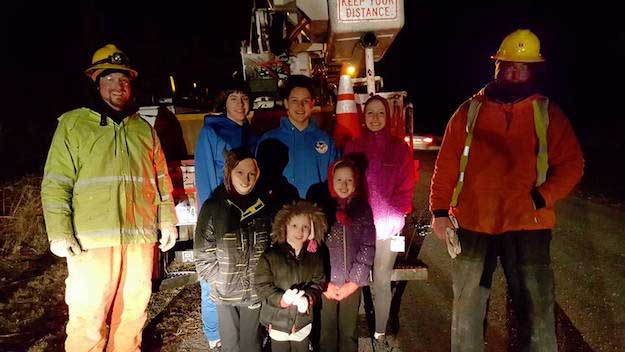 Kelly Rasmusson sent in this photo of Kendall kids in the Kuhn, Rasmusson and Baxter families who delivered hot, homemade meals, dessert and coffee to several utility crews working in the bitter cold on Saturday night "as a small token of appreciation for all their hard work," Rasmusson said. "The guys were surprised, but thrilled and thanked the kids over and over." Pictured include Mason Kuhn, Ethan Kuhn, Katie Pearson, Bruce Rasmusson, Layla Rasmusson and Maggie Rasmusson.