N-O All-League runners named after meet in Barker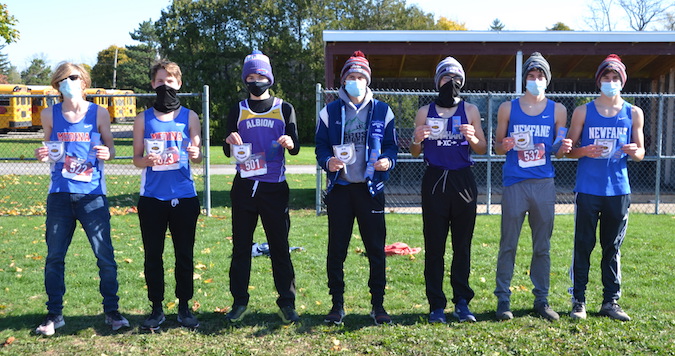 Photos by Tom Rivers
BARKER – The Niagara-Orleans League held its annual league meet on Saturday at Barker. The meet is usually at Lakeside Beach State Park but state parks aren't allowing any events with more than 50 people. The Newfane girls and boys team both defended their titles as league champs.
The league also recognized the top 21 runners for the boys and girls. The first team includes the top 7 runners, with the second team runners 8-14, and honorable mention for the runners who place 15th through 21st. There are seven schools in the league and each school was allowed up to seven runners for the race.
Boys First Team (top photo) includes from left Cameron Castanon of Medina, 1st in 17:31; Arian Cayea of Medina, 2nd in 17:36; Reuben Rivers of Albion, 3rd in 17:37; Nick Baes of Newfane, 4th in 17:38; Jay Heideman of Roy-Hart, 5th in 17:39; Andrew Cuzzacrea of Newfane, 6th in 17:47; and Connor Cuzzacrea of Newfane, 7th in 17:48.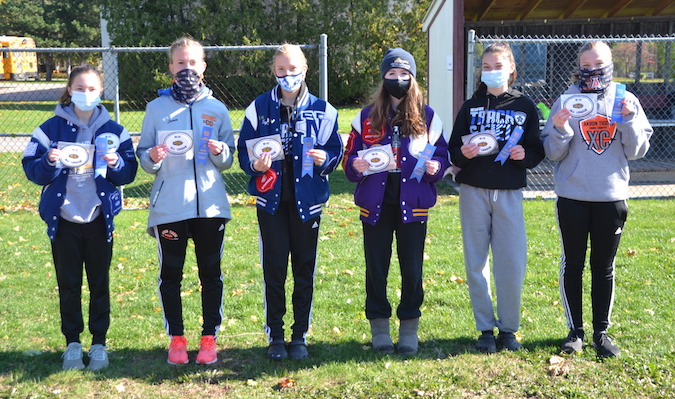 Girls First Team includes Kylie Bowman of Newfane, 1st in 19:50; Lauren Wagner of Akron, 2nd in 20:09; (missing from photo is Leah Siegman of Newfane, 3rd in 20:22); Taylor Heschke of Newfane, 4th in 20:30; Alanna Holman of Albion, 5th in 20:45; Catalena Ersing of Newfane, 6th in 20:47; Kayla Murray of Akron, 7th in 21:15.
There were no group photos for the second teams and the honorable mention runners.
Boys Second Team includes Mason Allee-Castro, 8th in 17:54; Jayden Reynolds of Newfane, 9th in 18:12; Gabe Mark of Medina, 10th in 18:16; John Chubb of Akron, 11th in 18:17; Austin Burkhard of Newfane, 12th in 18:18; Alwyn Cayea of Medina, 13th in 18:22; Dawson Donovan of Barker, 14th in 18:24.
Girls Second Team includes Kaila Szczygielski of Akron, 8th in 21:22; Marina Ersing of Newfane, 9th in 21:27; Melissa Robinson of Albion, 10th in 21:29; Carla Stoloski of Barker, 11th in 22:22; Shelby Nerber of Newfane, 12th in 22:48; Sara Siegmann of Newfane, 13th in 22:53; Cassidy Wagner of Wilson, 14th in 23:10.
Boys Honorable Mention includes Gannon Gibson of Newfane, 15th in 18:28; Robert Mason of Barker, 16th in 18:31; Landin Chaffee of Albion, 17th in 18:42; Evan Taylor of Barker, 18th in 18:49; Ethan Niver of Newfane, 19th in 19:01; Logan Harris of Barker, 20th in 19:03; and Isaac Pace of Medina, 21st in 19:09.
Girls Honorable Mention includes Jackie Thompson of Wilson, 15th in 23:11; Mikayla Woock of Barker, 16th in 23:52; Jennifer Reagan of Wilson, 17th in 24:25; Lydia Samson of Barker, 18th in 24:39; S'koi Sanders-Smith of Albion, 19th in 24:40; Madelynne Jowdy of Wilson, 20th in 24:42; and Emma Corbett of Akron, 21st in 24:44.