Mural of swans, canal scene almost ready to be installed at Hoag Library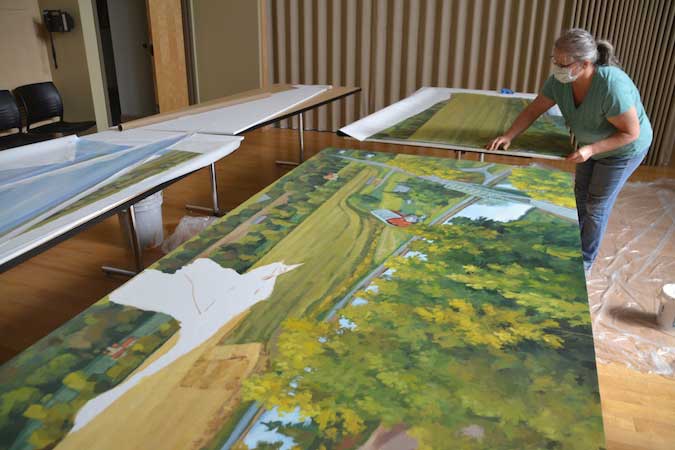 Photos by Tom Rivers
ALBION – Stacey Kirby Steward works on a mural Saturday morning inside Hoag Library. Steward, an Albion native who lives in Spencerport, is creating a large mural of swans flying over the Albion countryside.
"I'm very excited about this painting," Steward said Saturday. "It contains a lot of what I love about Orleans County."
Her mural will show three swans flying over the Erie Canal, showing the Gaines Basin Road bridge. The painting also highlights the farm fields, Lake Ontario and some of the cobblestone houses.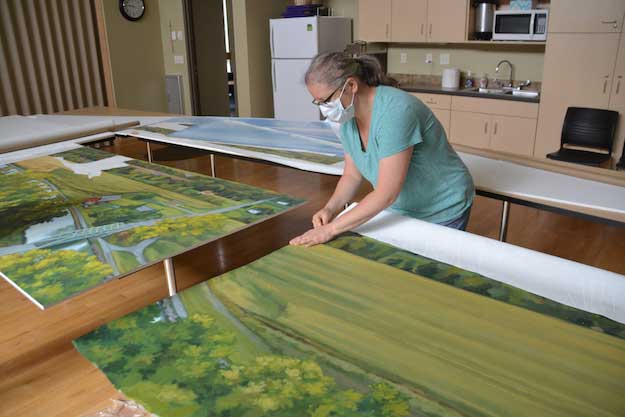 An anonymous donor is covering the cost for Steward to create the painting. The library surveyed  patrons last fall to get their votes on three designs for the mural, which will go in the Curtis Room, the largest meeting space in the library.
Steward submitted sketches showing swans, eagles or hawks in flight over the canal.
The vote totals include 71 for swans, 62 for eagles, and 27 for the hawk design.
Before Hoag Library opened in July 2012, Albion's public library was known as the Swan Library. That site opened in 1900 in a former mansion at 4 North Main St. in 1900 and remained the library's site for 112 years.
Steward will add three swans to the mural. She will paint them next Saturday. The library is pushing to have the mural in place by June 23, when the library will serve as a polling place for a special election and primary.
Jim Babcock's construction business will handle installing the mural to the wall.
Steward hired a drone photographer to get photos of the countryside in early fall.