Mount Albion Cemetery tours will be back in August
Historic site was started 175 years ago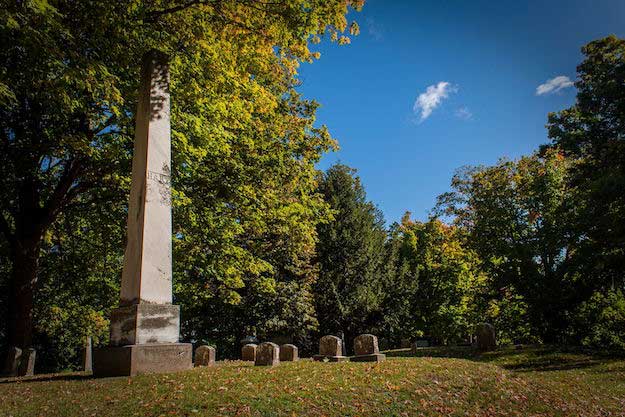 Photo and article courtesy of Orleans County History Department
ALBION – The Orleans County Department of History will host a series of cemetery tours running every Sunday in August beginning at 6 p.m.
The tradition was started by Bill Lattin, who is now retired as the county historian. His successor, Matthew Ballard, will lead visitors through historic Mount Albion Cemetery in celebration of the 175th anniversary of its incorporation.
Tours will assemble at the chapel and depart at 6:05 p.m. with each tour lasting approximately 1 hour and 15 minutes. These events are free and open to the public with nor reservations required. Tours will run rain or shine, so visitors are encouraged to dress appropriately and pack an umbrella.
August 5 at 6 p.m. – East End
Visitors will tour the original section of the cemetery making stops at the graves of several Orleans County pioneers including John Proctor and Joseph Hart, notable politicians, local entrepreneurs, and one particular story involving a murder in Carlton.
August 12 at 6 p.m. – Center Section
This tour will visit the graves of several local businessmen, pioneer settler Lansing Bailey, Virgil Bogue, and visitors will have an opportunity to hear the tale of Orleans County's only execution.
August 19 at 6 p.m. – Soldiers & Sailors Monument
Visitors will explore several areas not touched in previous tours, approaching the Soldiers & Sailors Monument from the east section of the cemetery. The tour will visit the graves of notable movers and shakers from Western New York including John Hull White, Rufus Brown Bullock, Elizabeth Denio, Noah Davis, and Caroline Phipps Achilles.
August 26 at 6 p.m. – West End
This tour will stop at various points along the western boundary of the cemetery and visitors will hear stories of Orleans County's first self-made millionaire, the murder of Horace Halpin, a local Walt Disney animator, Susan B. Anthony's personal secretary, and the story of Mt. Albion's Civil War lot.