Motorcyclists out for safety awareness ride in Orleans County
ABATE president: 'Keep an eye out for us. We're back out riding.'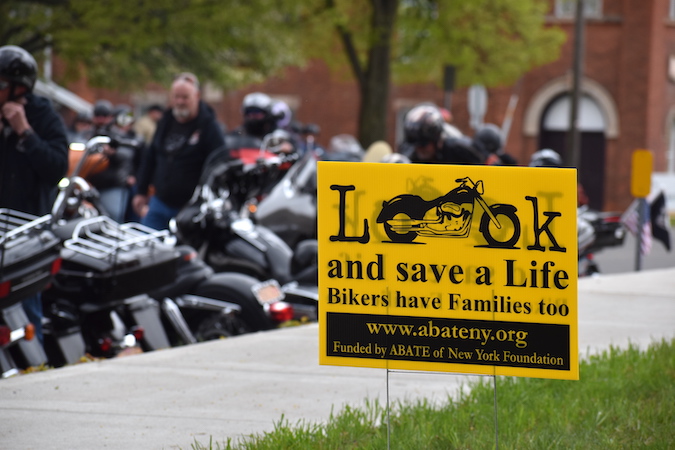 Photos by Tom Rivers
ALBION – The Orleans County chapter of ABATE (American Bikers Aimed Toward Education) held a motorcycle safety and awareness rally at the Orleans County Courthouse this afternoon and then went on an awareness ride throughout the county.
"Keep an eye out for us," said Chuck Persons of Medina, president of ABATE. "We're back out riding."
Persons has led the local ABATE chapter the past 15 years. He said the motorcyclists "are a very tight group."
He enjoys the camaraderie among the other motorcyclists, and loves to be on the road.
"It's the freedom," Persons said. "It's the wind in your face."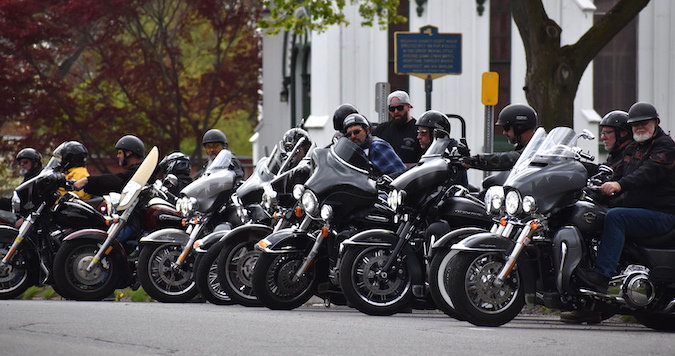 County legislators John Fitzak and Skip Draper presented this proclamation from the County Legislature to leaders of ABATE in Orleans County :
"Whereas, ABATE of New York, Inc. is a Not-For-Profit organization dedicated to rider education and freedom of the road; and
"Whereas, ABATE of New York's Aims and Purposes are as follows:
To act as a legislative monitor with the intent to inform members of pending legislation and promote favorable motorcycle legislation at federal, state, and local levels;
To improve road conditions by informing the department of transportation of potential hazards;
To help prevent accidents through awareness programs aimed at all drivers;
To promote good citizenship by encouraging members to use their right to vote;
To act as liaison on behalf of motorcyclists with government agencies;
To discourage misrepresentation of motorcyclists in the media;
To present and promote a better public understanding of motorcycling in America; and
"Whereas, this organization has dedicated its efforts and does encourage all motorcyclists to become involved in preserving their rights, safety and freedoms,
"Now, therefore, we as Legislators of the County of Orleans do hereby proclaim the month of May 2023 as: Motorcycle Safety and Awareness Month in Orleans County."