More than 7,000 without power in Orleans County
Peak gust at 69 mph at Emergency Management Office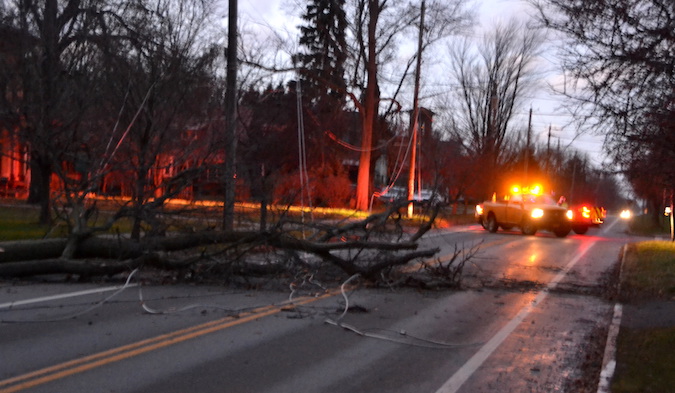 Photo by Tom Rivers
ALBION – A tree toppled onto North Main Street in Albion at about 5 p.m., between Caroline Street and Linwood Avenue.
More than 7,000 National Grid customers are without electricity at 5:45 p.m., with powerful winds knocking down trees and wires.
The 7,197 customers without power in the county are scattered throughout Orleans with the biggest outages in Murray, and Carlton and Kendall.
The 7,197 represent 36.7 percent of the Grid's 19,601 customers in Orleans County.
National Grid is reporting 23,150 customers are without power in Niagara County, and 4,172 in Genesee County.
The peak gust so far has been 69 miles per hour at the Emergency Management Office in Albion on Countyhouse Road.
UPDATE: The number of National Grid customers without power in Orleans County was 8,041 at 7 p.m. and 8,042 at 8:02 p.m.