More than 400 join in Day of the Dead festivities in Medina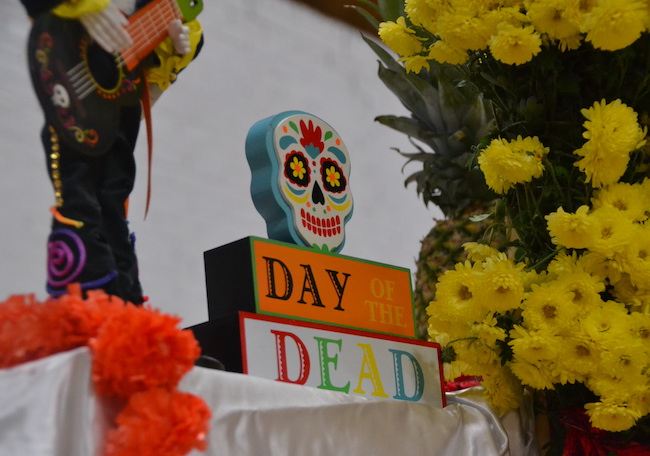 Photos by Tom Rivers
MEDINA – A Day of the Dead display is part of this ofrenda that was created inside the Orleans County YMCA. The Genesee-Orleans Regional Arts Council (GO Art!) teamed with the YMCA and Mariachi de Oro to put on the event today. GO Art! counted 420 participants, the most in the three years the Day of the Dead has been at the YMCA.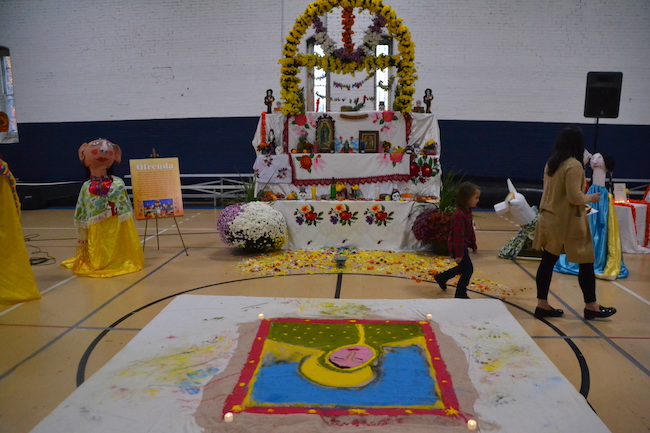 This ofrenda in back was created by the Rosario family. An ofrenda is an offering placed in a home altar during the annual Mexican Día de Muertos celebration. An ofrenda is often large and elaborate, and is usually created by the family members of a person who has died and is intended to welcome the deceased to the altar setting.
Jesse Cudzilo, YMCA director, was happy to share the facility on Pearl Street for the Day of the Dead.
"It is exactly what we want this place to be – a place where everybody can come together," he said.
He was pleased to see the big turnout "from people of different backgrounds enjoying a cultural event."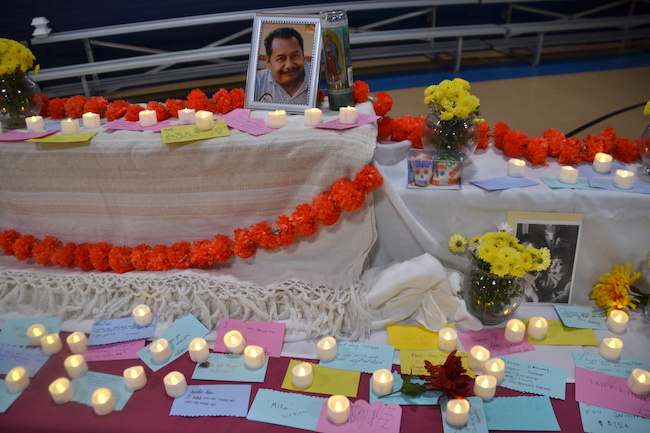 This display gave people a chance to write notes to a departed loved one.
The Mexican Day of the Dead Celebration is a time of joyful remembrance of deceased loved ones, filled with an array of colors, scents, sounds and stories.
Centered around the observance of All Saints and All Souls Days on Nov. 1 and 2, the celebration also includes images and ideas about the roles of ancestors that trace back to Mexico's indigenous peoples.  Tradition holds that this is the one time of the year when souls can return to earth for a day and commune with their families and friends.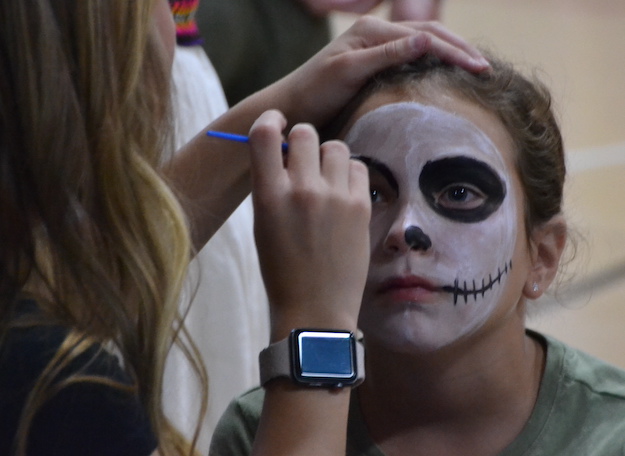 Erin Allis, 9, of Median gets her face painted by Lydia Fox, a Medina High School student who volunteered as face painter. Other art students at Medina helped with the celebration.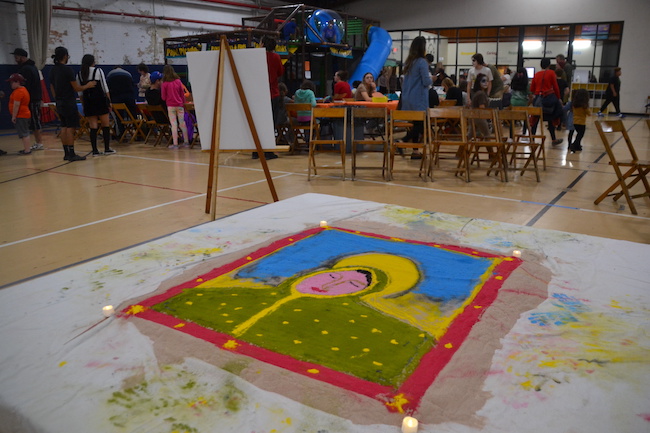 Antonio Cruz Zavaleta created this sand painting.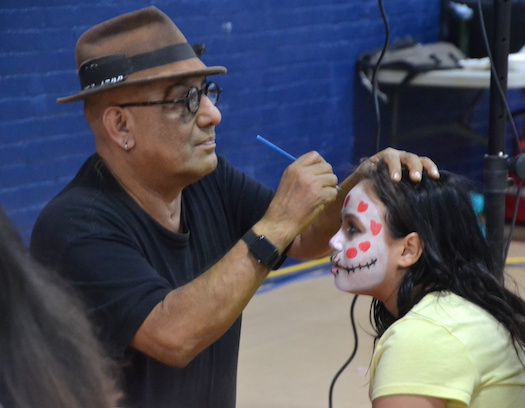 After he made the sand painting, Antonio Cruz Zavaleta served in the popular face painting station.
The festivities included Mexican crafts, dance and drama performance, sand painting and ofrenda displays, and special food tastings.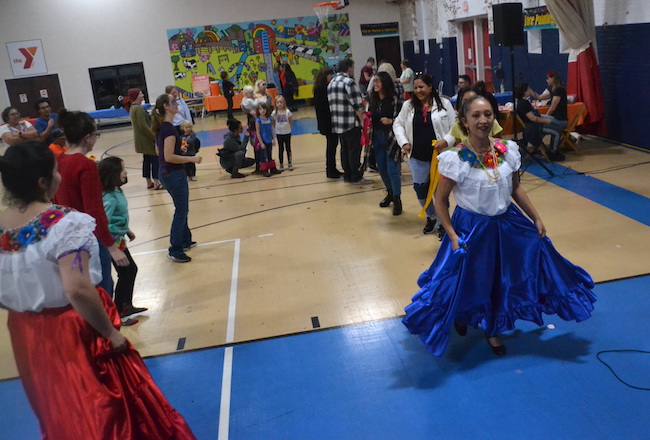 Karla Alcalá teaches Mexican folklore dances. A former member of a folkloric dance group in Mexico, Alcalá now teaches community members traditional dance from a variety of regions.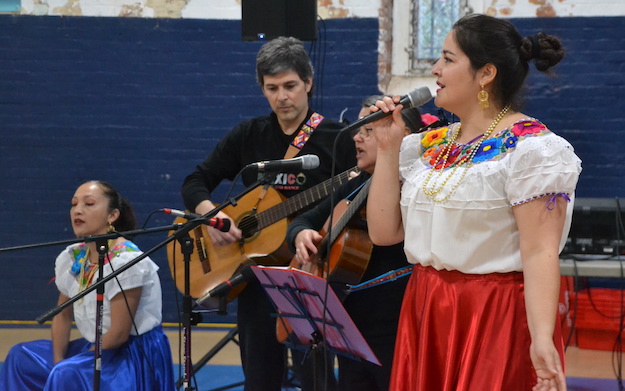 Mexican dance and music performances were shared by Alma de México, a group from Rochester.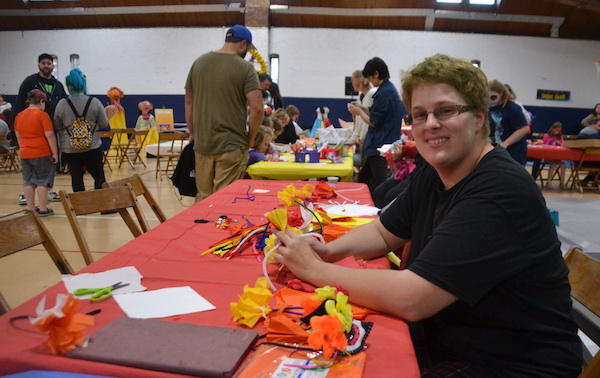 Abby Fuller made more than 50 paper flowers that she shared with people.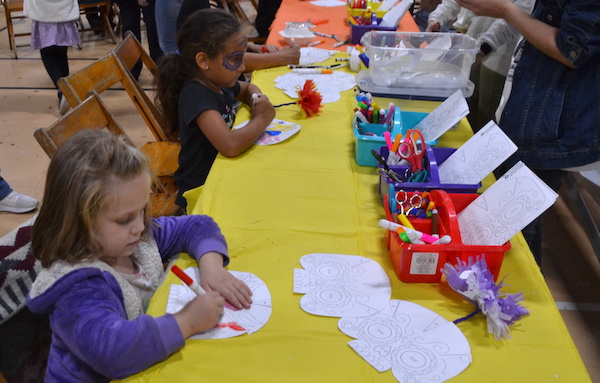 Eleanor Oakes, 5, of Medina makes a mask.
In another activity, children were welcome to create colorfully decorated skulls or calaveras. GO Art! ran out of all 200 of those sugar skulls that were decorated with icing.