More than 150 'Balloon Buddies' delivered to senior citizens in Medina
MEDINA – Senior citizens at Orchard Rehabilitation and Nursing Center and Applegate Manor in Medina received a special delivery of "Balloon Buddies" earlier this month.
Sheryl Watts, owner and creator of Air Raising Events, made 152 of the Balloon Buddies with messages. The community paid $15 each to sponsor one of the buddies.
Watts delivered 140 of the buddies to Orchard Rehabilitation and Nursing Center (Orchard Manor) on Feb. 8. She brought 12 to Applegate Manor on Feb. 5.
"It was amazing," Watts said about delivering the Balloon Buddies. "The staff and adopted grandparents were so happy. The support from the community has been very positive and enthusiastic. Families from out of state have been very appreciative of the campaign and happy to see their loved one get a Balloon Buddy to brighten their day."
She is close to meeting her fundraising goal to take 105 to The Villages of Orleans Health and Rehabilitation Center in Albion. Click here for more information about donating or sponsoring.
After the Villages, Watts wants to bring the Balloon Buddies to the Clover Hill site in Albion.
Balloon artists throughout the country are bringing "Balloon Buddies" to residents of nursing homes and assisted-care sites are part of the Adopt-A-Grandparent Balloon Buddy Campaign.
Residents receive a smiley-faced character holding a heart.
The balloon buddy campaign seeks to bring some extra joy to senior living facilities, which have suffered during the Covid-19 pandemic, including extended separation from loved ones.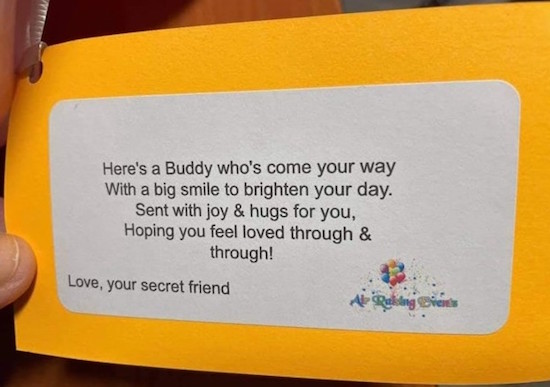 Watts has added a message that tells the recipients they are not forgotten and are loved.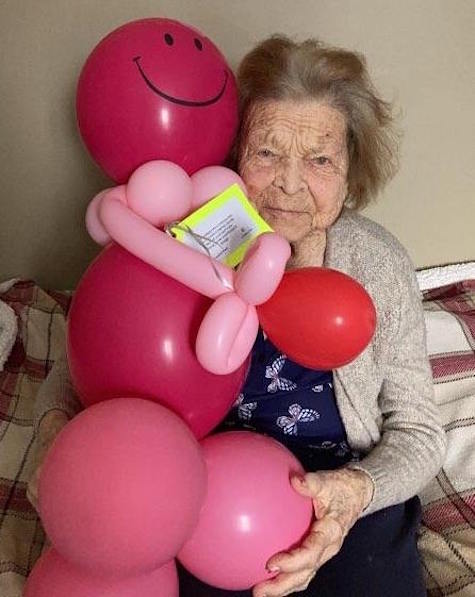 This woman gives her Balloon Buddy a snuggle.