More than 100 participate in colon cancer awareness run and walk
The event, in its fourth year, honors the memory of Wayne Burlison

Photos by Marsha Rivers
ALBION – Lisa Burlison welcomes the runners and walkers to fourth annual Run for Wayne, which honors the memory of her husband Wayne Burlison. This year the event became the Wayne A. Burlison-Colon Cancer Awareness 5K Run and Walk.
Burlison, an Albion elementary music teacher, was 36 when he died from colon cancer on March 26,2014. He was active in several musical groups in the community and also helped start the Albion Running Club. He lost more than 150 pounds through better nutrition and exercise.
The race started on Clarendon Road near the elementary school. The course headed to Mount Albion Cemetery and then back to the school.
There were 110 runners and walkers in today's event.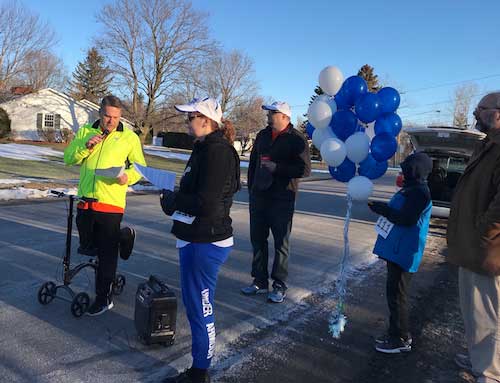 Lisa Burlison and her son Adam greeted the runners, and released the balloons the start the race. Brian Krieger, left, and Mark Moore, right, of the Running Club helped organize the event. Randy LeBaron, pastor of the Albion Free Methodist Church, also shared a short message and prayer for the runners and walkers.
"As you run today, I encourage you to think about those seemingly small things in your life that are precious to you," Mrs. Burlison told the group. "Notice the people around you, and extend a smile. Notice the scenery, and be thankful for what is there. While the things of this world may be temporary – they are gifts and blessings. It is my hope that you see them today and in the days to come."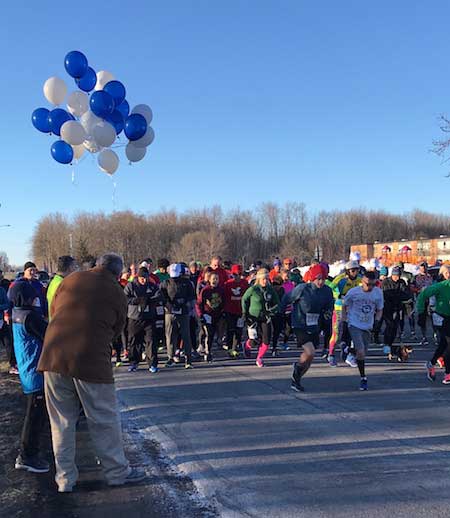 The race gets started as the balloons are released. Reuben Rivers, 13, of Albion was the overall winner in a time of 19:38. Sabrina Quiros, 14, of Medina was the fastest female at 23:47.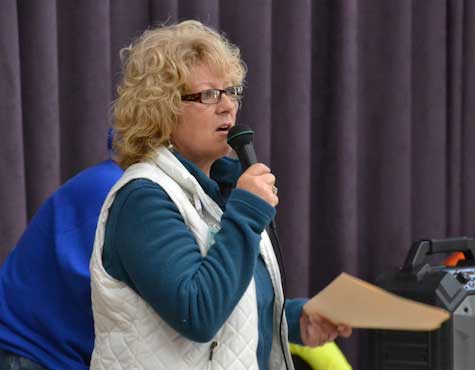 Photo by Tom Rivers: Lisa Franclemont, coordinator of Cancer Services of Genesee and Orleans, urged people to get screened for colorectal cancer. She also said working to reduce stress can help fight the disease.
The Running Club teamed with Oak Orchard Health in organizing the Wayne A. Burlison-Colon Cancer Awareness 5K Run and Walk. Both groups want to raise awareness about colon cancer as the third-leading cause of death by cancer for men and women. Colon cancer is preventable or treatable with the proper knowledge, resources, and early detection.
Some of the proceeds from today's event also go towards developing a walking trail at Bullard Park.