More bell ringers still needed for Red Kettle Campaign
Donor doubled donations from Friday at Albion Walmart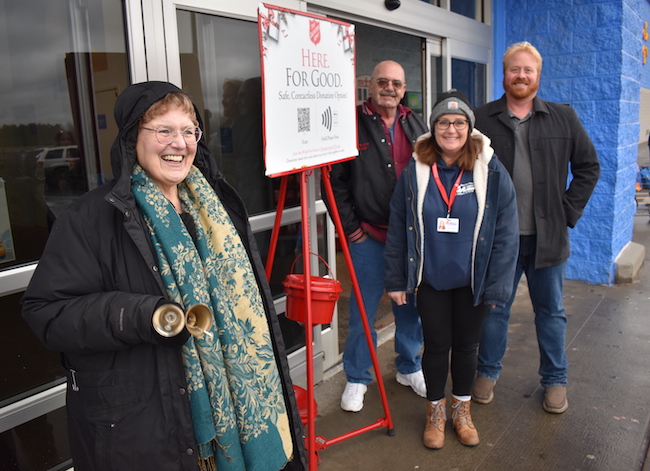 Photos by Tom Rivers
ALBION – Nyla Gaylord, director of development at United Way of Orleans County, rings the bell on Friday for the Red Kettle Campaign in Orleans County. She is joined at the Albion Walmart by Bob Harker (back left), director of the Genesee-Orleans Ministry of Concern; Katrina Chaffee, director of community services for Community Action; and Matt Holland, grant writer for the United Way of Orleans County.
On Friday an anonymous donor matched the $1,823.33 given at Walmart in Albion.
"We are grateful for the many donors and our volunteers who spread holiday cheer as they rang the bells for the Salvation Army Red Kettle Campaign in the cold," said Nyla Gaylord, director of development at United Way of Orleans County. "We still need more people to sign up for this coming Thursday and Friday."
This holiday season there aren't bell ringers stationed throughout the county. There are two locations with bell ringers – Walmart in Albion and Tops in Medina. Table top kettles are placed in several locations in the county.
To sign up to ring the bell at Tops in Medina, click here. To ring the bell at the Walmart in Albion, click here.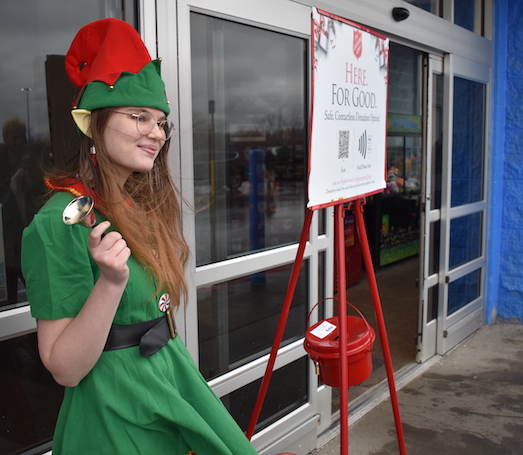 Summer Borck dressed as an elf on Friday at the Albion Walmart and gave away candy to help spread joy during the holiday season. Her mother Rose works at the store.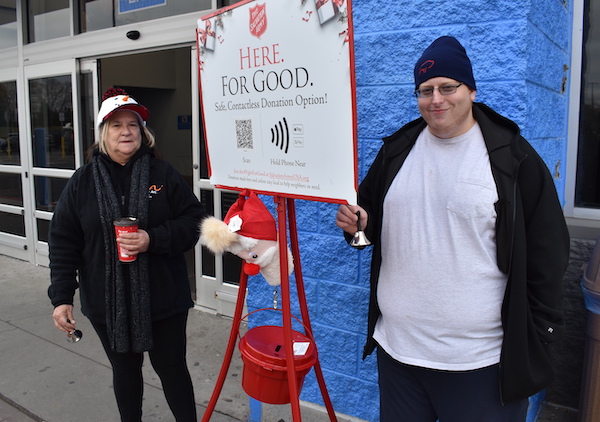 Keith Adams of the Self Advocacy All Stars took a turn at the Red Kettle on Saturday at Walmart. He is joined by Terry Kingdollar, an employee with ARC GLOW. The Self Advocacy All Stars have volunteered as bell ringers in Albion and Medina.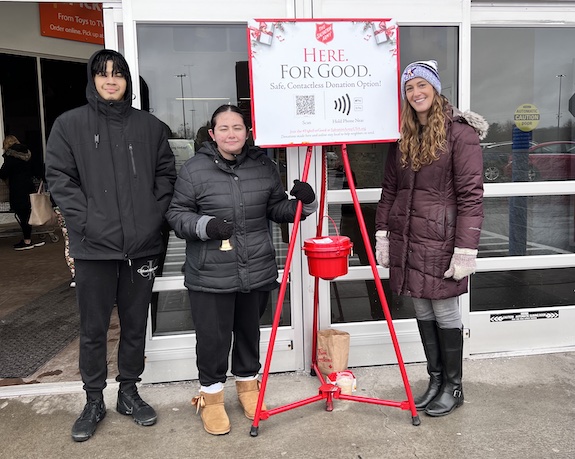 Provided photo: Albion senior students Jaquis Johnson and Brianna Sample join Mollie Radzinski, Community Schools Public Relations Coordinator at Albion Central School and a United Way board member. They were bell ringers for two hours on Friday.
---
Money donated through the Salvation Army's Red Kettle Campaign stays in Orleans County. Funds collected are divided between Community Action and the Ministry of Concern to help people in need.
The Salvation Army is promoting the organization's QR code, which can be scanned in on smart phones to make a donation. The donation will go to The Salvation Army serving the zip code of the phone owner.