Ministry of Concern furniture program close to return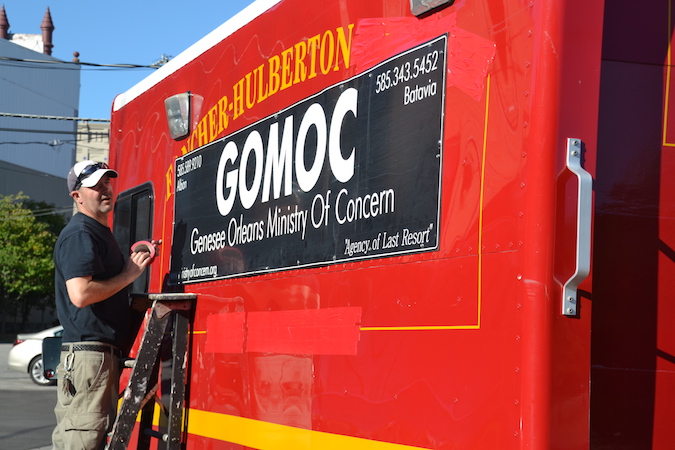 Photos by Tom Rivers
ALBION – Travis Crowley, coordinator of the furniture program at the Genesee-Orleans Ministry of Concern, puts a temporary GOMOC sign on a moving truck.
The Ministry of Concern's previous truck, a 2004 GMC Savana van, had about 160,000 miles, and needed another engine and other repairs totaling $8,000. The Ministry of Concern was given a good deal on a 2000 GMC box truck with only 12,000 miles. That truck was owned by the Fancher-Hulberton-Murray Volunteer Fire Company.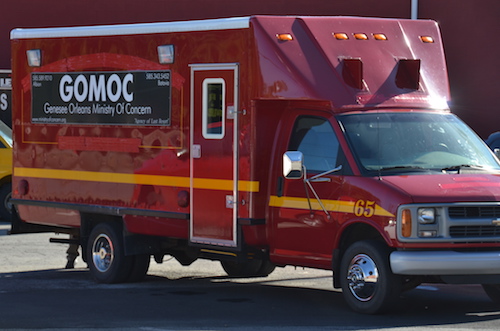 The truck will get professional detailing with the GOMOC name on Oct. 26. Crowley and the Ministry of Concern wanted a temporary sign until then. The truck is expected on the road soon. GOMOC is waiting on the title to be sent from Albany.
Laverne Bates, Ministry of Concern executive director, said the title is expected any day. As soon as it arrives, GOMOC will head to the Department of Motor Vehicles to have the truck on the road.
He thanked the community for stepping forward and donating towards the truck.
"We're very grateful from the wonderful response," Bates said today. "It was overwhelming. It was inspiration when we needed it."
The Ministry of Concern picks up used appliances and furniture and matches them with people in need in Orleans and Genesee counties. There are about 100 people on a waiting list for furniture and appliances – refrigerators, stoves, washers and dryers.
Two part-time employees run the furniture program, which on average makes deliveries to 23 families each month or nearly 300 a year.