Minimal damage from fire at Country Club Restaurant in Medina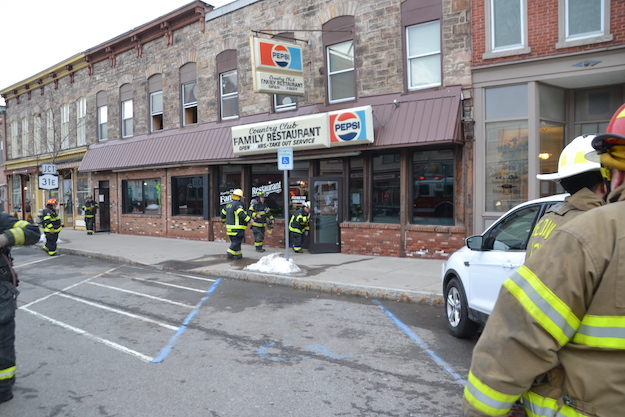 Photos by Tom Rivers
MEDINA – Firefighters from the Medina area were dispatched at 4:30 p.m. to the Country Club Family Restaurant at 535 Main St. for reports of a structure fire.
The fire was limited to an office in the back of the restaurant. Steve Cooley, Medina Fire Department lieutenant, said an alert bystander at the restaurant used a fire extinguisher on the flames and smokes and then shut the door.
"That was the perfect thing to do," Cooley said.
That action contained the fire until firefighters arrived and sprayed water in the room. They encountered high heat and smoke in the office, Cooley said.
Medina Fire Chief Matt Jackson said there is minimal damage from the fire, which didn't spread beyond the room.
He expects the Country Club will be closed the rest of today and will have to do a "deep cleaning" tonight. The Orleans County Health Department is expected to have to give the OK for the restaurant to open.
Fire investigators from the Medina Fire Department and Orleans County Emergency Management Office are on the scene to determine the cause.