Miniature carnival built by Albion men makes debut at Orleans Fair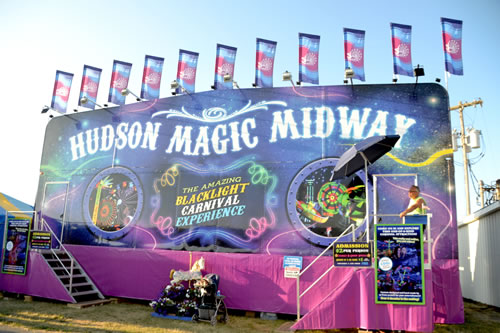 ALBION – The Hudson Magic Midway is making its local debut at the Orleans County 4-H Fair. The attraction is housed in a 40-foot-long semi-truck trailer. Inside is a collection of 40 miniature replicas of midway rides from the 1950s to the most recent innovations in amusement park rides.
Jay Pahura at right and his friends, brothers Charlie and Frank Zicari, have been working on the Midway for several years. It made its first fair appearance last August at the Erie County Fair.
The trailer has flags on top and panels that tell the history of the project. Hudson Magic Midway costs $2 per person to see inside or $1 each person in groups of at least 5. Hudson's Magic Midway is open the same time as the real amusement rides at the Fairgrounds, from 3 to 10 p.m. Wednesday through Saturday.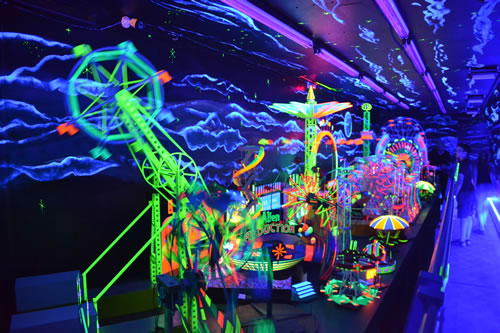 The inside is blacklight, giving a glow-in-the-dark feel. The rides are hand-built. They are illuminated and show a history of amusement park attractions, including Midway rides to popular concessions and games such as Skee Ball.
The rides are all fully operational on a small scale – but not too small. The Sky Wheel, for example, is nearly 5 feet tall at 56 inches.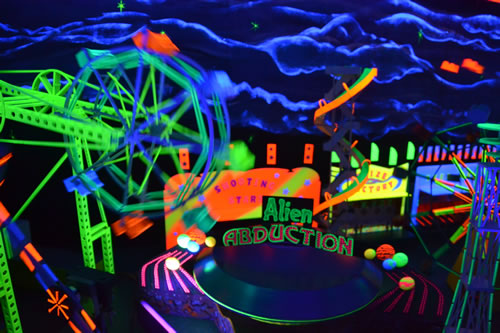 The miniature carnival started in 1953, when the late Albion resident Harold Hudson started building miniature midway rides in the basement of his home on Caroline Street. The display eventually filled two garages from front to back and Hudson welcomed the community to see them.
Hudson used ordinary materials found around his house, plus his creative ingenuity to make the rides. He hand-built many of the rides just as they were being introduced by ride manufacturers to carnivals across the United States.
Charlie Zicari was a boy when he saw "Hudson's Exposition Shows." Zicari was hooked. He became friends with Hudson and started building rides and helping him with the set up. When Hudson died in 1989, he left his miniature carnival to Zicari.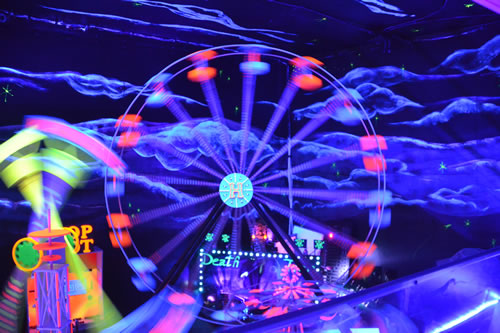 The display inside the trailer includes a skyscape, giving the mini carnival a planetarium feel.
Zicari has built many of his own rides, including more recent additions to carnivals.
The Zicari brothers and Pahura set up the mini midway at the former Erie Canal Schoolhouse Bed & Breakfast in Albion a few years ago. That was the first time the public had seen the rides in many years.
The bed and breakfast has since closed. The Zicaris and Pahura worked on a home for the attraction: the long trailer that needs to be moved by a semi truck.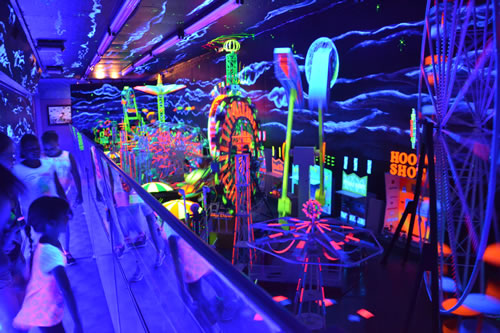 The Zicaris and Pahura have strengthened some of Hudson's creations to make them sturdy for trips to fairs and other festivals. The rides have been painted with five to six coats of a reflective paint to make them better illuminate in the black light.