Midnight traditions on New Year's Eve could bring good luck in 2020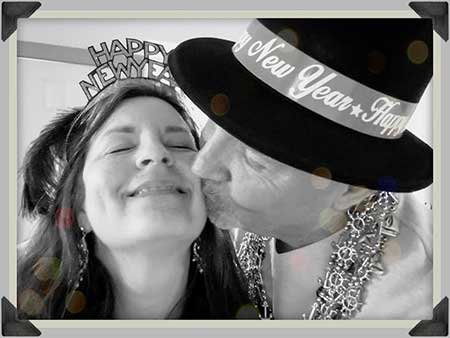 I preface this post by putting it out there that New Year's Eve is my favorite night of the year! All kinds of rituals are performed from reflecting to toasting. But once The Ball starts to drop on December 31 at 11:59 p.m. … 10,9,8 … and the countdown begins, we all start to scramble looking for someone to pucker up with.
Why is it that we want to kiss someone at midnight on December 31st? If you are lucky you won't have to search too far. As you near midnight make sure you are surrounded by a lot of fun and familiar people to better your odds of sneaking in a smooch.
If you do not have a special someone and are unsure of how to snag a kiss, I did some research to help you and discovered the "Hug Technique." Give someone a big hug and then perhaps it might build a bridge to a kiss! Now I have not read, with 100 percent certainty, that a kiss has to be on lips. Although that would be ideal, I think a kiss on the cheek is just as sweet! This tradition has been traced back to Europe.
The New Year's Kiss is meant to bring good luck for the future, especially with the one we kiss. This left me wondering what other nationalities are doing at midnight on New Year's Eve. I read in Spain that it is common to eat 12 grapes at midnight. Each grape is meant to bring good luck for the following 12 months. Or in Brazil they wear special-colored underwear on New Year's Eve. Red undees desire love and yellow undees desire money.
Another fun one from Denmark is that they jump off chairs at midnight as a way to leap into the New Year with good luck. All these traditions have one common thread. They are hoping fate will bring them good luck and happiness in the upcoming year. Being a somewhat superstitious person I want to cover all my bases.
This New Year's Eve I feel it might be prudent at midnight to jump off a chair in red and yellow striped undees while eating 12 grapes quickly, only to land into the arms of My True Love and share a New Year's Kiss. Of course this is all silliness which I hope brings you a smile to start year 2020.
The end of 2019 leaves us reflecting on what we did well in 2019 and what more we want to accomplish in 2020. However you celebrate New Year's this year, I resolve that it is the beginning of the best year for all of us – full of good vibes, grand adventures and much gratitude for what we have. Happy New Year's to everyone!!
Happy Perks to everyone! To view my blog live online and share any of your New Year's resolutions just go to https://www.positiveperksposts.com were you can also join in, like and share your comments.
Truly,
Debbie Burgoon London
Your Sassy Small Town Missus from Albion