Middleport church closes and leaves gifts for 5 community organizations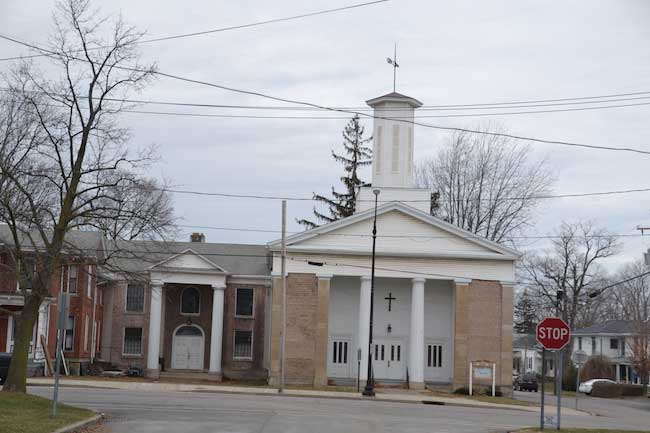 Photos by Tom Rivers
MIDDLEPORT – The Middleport Universalist Church has been a landmark on Main Street in Middleport since 1841.
The church has officially dissolved. The membership dwindled to about 15 people, who voted to dissolve in January 2015. It took two years for the process of dissolution to be complete.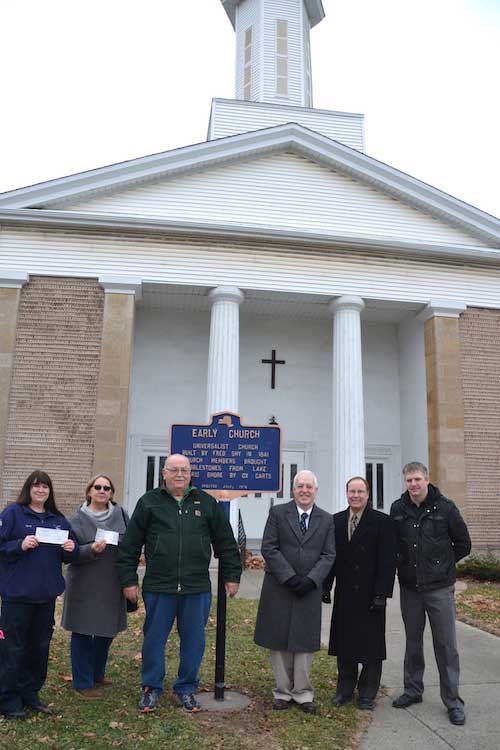 As part of its dissolution, the church decided proceeds from the sale would go to five different community organizations – Tri-Town Ambulance, $11,366.97; Middleport Community Chorus, $11,366.97; Cobblestone Museum, $11,366.97; Middleport Village Historian, $5,910.82; and Hartland Bible Church, $5,456.15.
Pictured from left include: Cheryl Confer, treasurer and director of operations for Tri-Town Ambulance; Christa Lutz, Middleport historian; Cliff Grant, chairman of the church board of directors; Mark Christensen, treasurer of the choir; Jim Bonafini, president of the Cobblestone Museum; and Jon Goodwin, pastor for Hartland Bible Church.
Grant said the church wanted to support Tri-Town for providing important life-saving care in the community. The historian also agreed to take the church's records and keep them safe. The Middleport Community Choir spreads joy in the community throughout the year, often by sharing Christian music, Grant said.
The Cobblestone Museum in Gaines is a resource for cobblestone masonry and architecture, and also has a complex that includes three historic cobblestone structures, Grant said. He praised the Hartland Bible Church for running "The Hub," a building that provides activities for teens and senior citizens.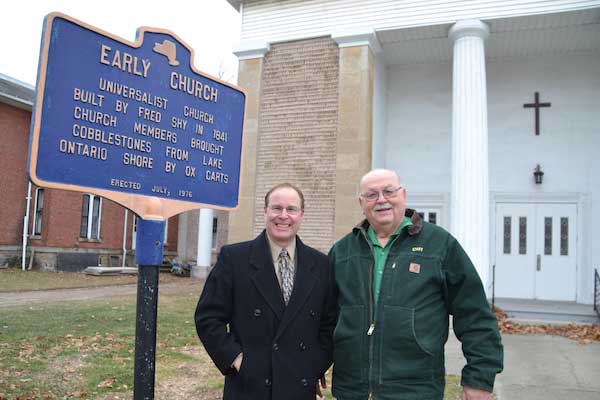 Jim Bonafini of the Cobblestone Museum, left, thanked Cliff Grant and the Middleport Universalist Church for the donation. Bonafini said the funds would likely go to the restoration effort at the Cobblestone Church in Gaines. The museum is working to restore 27 windows, paint the bell tower and do other improvements on the church that was built in 1834. That work will cost about $30,000.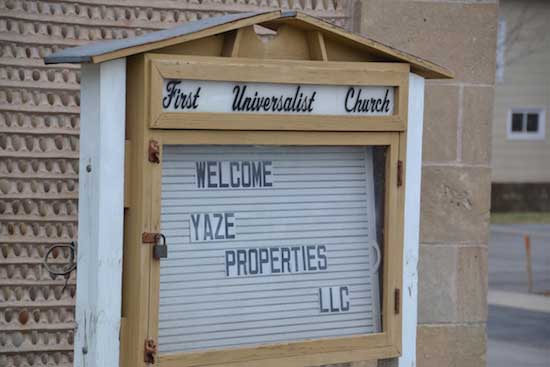 Brian Yaiser of Yaze Properties LLC bought the property and wants to develop the site into a conference center. The sale includes a parsonage and dining hall, as well as the church building.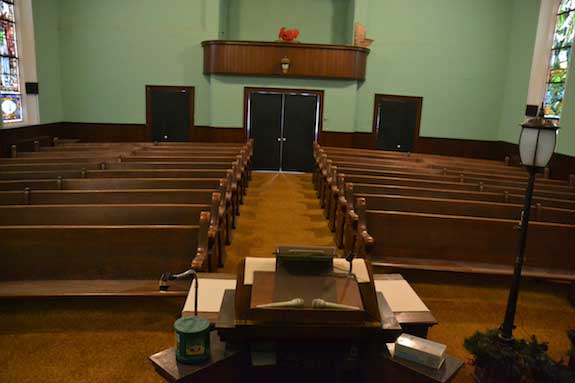 This photo shows the sanctuary where the Universalist Church met for 176 years. The church was the first in Middleport with an organ.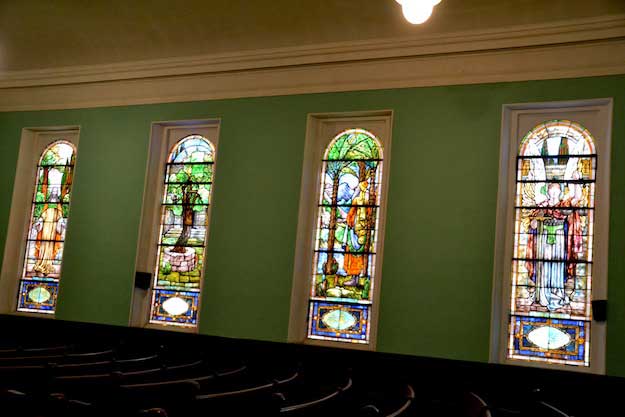 The sanctuary includes many ornate stained-glass windows.