Medina's Varsity Winterguard earns 1st at Marcus Whitman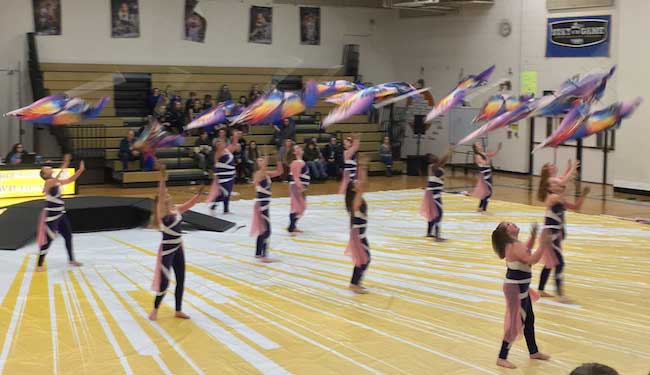 Photo and article courtesy of Medina Mustang Band
MEDINA – Both of Medina's Winterguards traveled to Marcus Whitman High School on Saturday and the varsity earned a first place. (The varsity is shown in the photo.)
This was Medina's their fourth competition this season. Fourteen guards from around Western NY came to compete along with ARC of Yates who performed in exhibition.
In the Scholastic A class, Medina's Varsity guard earned 1st place with a score of 78.94 followed by Orchard Park, 78.26.
The Regional A class had six guards performing and the Medina JV guard took 3rd place with a score of 76.100.
Winners in the other classes were Gates Chili Cadet with 64.05; Gates Chili RA with 77.30; in A1 the Gates Chili JV with 71.93; SUNY Geneseo Sapphire in Senior Class with 57.91, and in Independent A, the Gates Chili Independent with 82.68.
The guards will next compete this Saturday in Lancaster followed by Medina's home show on March 14.
There are six judges involved in each performance. Two critique General Effect from an emotional viewpoint and how well the repertoire is performed.
One judge is "individual analysis" and how well the equipment is handled and the design of the show. The "Individual Analysis – Movement" deals with what they are given and how well they perform it.
The "Ensemble Analysis" credits  the total technical package, how the show flows and how well the performers are executing the composition. "Timing & Penalties" ensures that WGI rules are followed with respect to timing from the point of setup to breakdown.