Medina's varsity Winter Guard takes 1st at Lancaster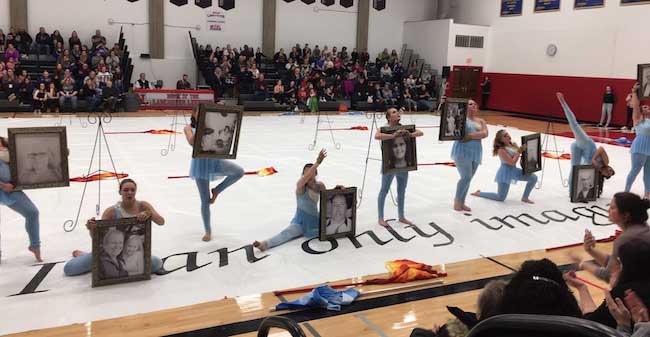 Photo and article courtesy of Medina Mustang Band
LANCASTER – All three of Medina Winter Guard units competed at Lancaster High School on Saturday, where 27 guard units from New York and Canada performed.
In the Novice class Medina's Pony guard took 1st place. The Jr. Varsity guard competed in the RA class and took 2nd place with a score of 70.58, bested by Lancaster with 74.01.
Medina's Varsity guard competed in the SA class and took 1st place with a score of 74.12. Orchard Park was second with 70.46.
Winners in the other classes were: Cadet class Victor with 69.25; A1 class Batavia with 73.26; in SR class, the Magic of Scout House with 70.14; in IA class, Gates with 82.31; in SO class, Victor with  79.10 and in IO class, Lancaster with 80.40.
Medina's next performance will be the home show "Colorburst" on Saturday, March 9, at the high school gym. The doors open at 4 p.m. and the show starts at 5 p.m. This is a great opportunity to see these kids display their talents without having to drive far.