Medina woman, 80, killed in Batavia car crash on Friday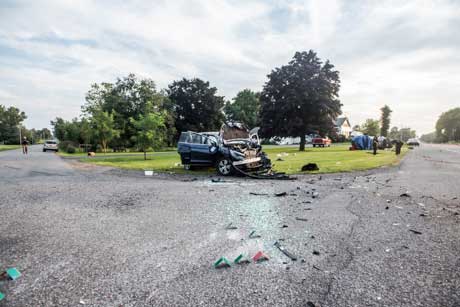 Courtesy of Howard Owens/The Batavian
BATAVIA – An 80-year-old resident of Medina was pronounced dead at the scene Friday evening of a two-car motor vehicle accident at the intersection of Pearl Street Road and Wortendyke Road, Batavia.
The investigation so far indicates that Irene B. Cichocki was driving a 2018 Kia Sportage westbound on Route 33 when it was hit broadside by a 2016 Honda Pilot that was southbound on Wortendyke Road, The Batavian is reporting.
The Pilot was driven by Lauren D. Power, 17, of Scotch Plains, N.J.
Power reportedly told investigators she was unfamiliar with the area and did not see the stop sign on Wortendyke.
Power, along with her passengers, suffered minor injuries and were transported to Strong Memorial Hospital for evaluation and treatment. Her passengers were Marianna D. Ban of Hamlin, Sophia E. Buono of Rochester, and Justin R. Barnard of Rochester.
The investigation indicates that after Power's Pilot hit Cichocki's SUV, the Sportage overturned multiple times and came to rest in a grassy area on the south side of Pearl Street Road.
Neither alcohol nor drugs are considered a factor in the accident.
Power was issued a citation for alleged failure to stop at a stop sign.
The cause of the accident is officially still under investigation.
The investigation is being conducted by Undersheriff Gregory Walker, Sgt. Andrew Hale, Investigator James Diehl, Investigator Joseph Loftus, Deputy Kyle Krzemien. Trooper Brackett assisted at the scene along with Mercy EMS, East Pembroke Fire, and Town of Batavia Fire, and L & L Transmission Towing Agency.