Medina Winter Guard competes at Victor, brings home a 1st, two 2nds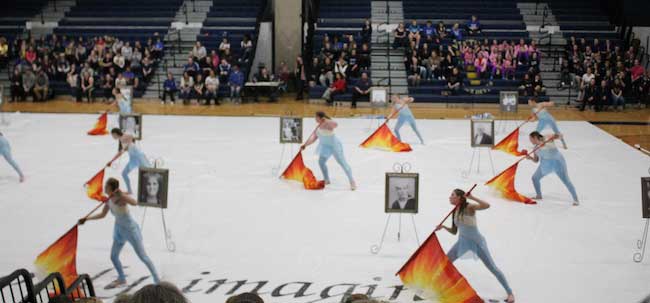 Photo courtesy of Medina Marching Band
VICTOR – Medina's varsity winter guard team is shown competing Saturday in Victor. Medina came in second with 65.60, which was behind Corning Painted Post with 65.96.
Victor hosted its 20th annual winter guard show and all 3 of Medina's guards competed.  Winter guard is a hybrid performance art form that combines elements of music, dance and military-like precision marching.  Winter guard came into existence 30 years agond is an international sport.
In the Novice class Medina took 1st place (no numerical scores). In the RA class, Medina came in 2nd with 57.10, bested by Eastridge with 58.35.
In other classes Victor came in 1st in Cadets with 55.56; Geneseo in Senior class with 45.70;  Batavia 1st in A1 with 64.70; Gates-Chili in Independent A with 71.25; Victor in Scholastic Open with 72.0;  Lancaster in Independent Open with 68.40; and the Brigadiers in Independent World with 74.20. (The ARC of Yates performed in exhibition and it was obvious how much this group of adults put their hearts into performing.)
Medina's next competition is Feb 16 at East Syracuse Minoa. Medina's home show is March 9.