Medina wins Small School Division at Victor band competition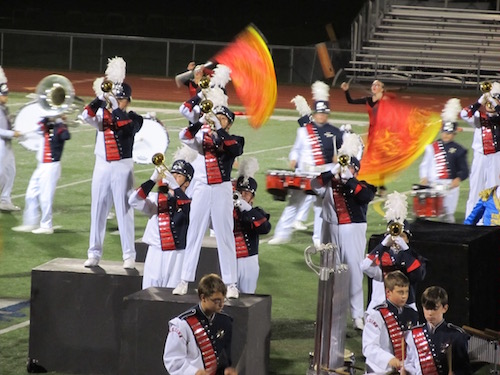 Courtesy of Medina Mustang Band
The Medina Mustang Band travelled to Victor on Saturday night to compete in the 2016 "Music in Motion" Show. Thirteen bands were present on a beautiful harvest moon-lit evening. Thrilling a large crowd and continuing to perfect their show, Medina performed "The Matador" – a fiery show with high-energy Spanish music.
Medina competed against East Irondequoit in the top Small School Division, earning a score of 85.25 to East Irondequoit's 80.80.
The Medina band will be busy next week with a performance at the Medina High School football game on Friday night, followed by another New York State Field Band Conference Show in Orchard Park on Saturday night, and then another NYSFBC Show in Webster on Sunday afternoon.
The following Wednesday, Oct. 26, at 7 p.m., the public is invited to the High School Auditorium to hear a show performance and honor the 23 seniors in this year's band.
The fall season finale is Sunday, Oct. 30, at the Carrier Dome in Syracuse for the State Championship. Medina will perform at about 7:00 p.m.