Medina third graders take virtual trip to the UK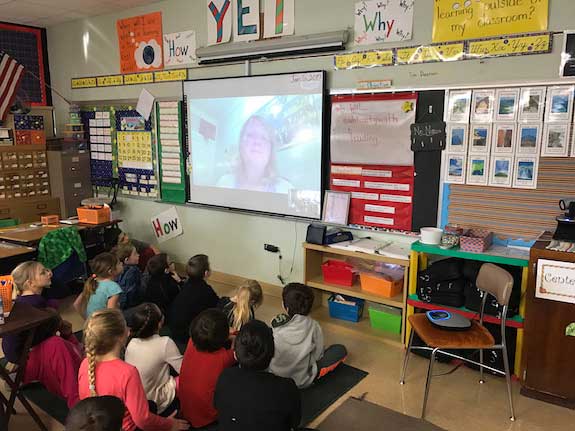 Press Release, Medina Central School
MEDINA – The third grade students in Katie Toub's class at Oak Orchard Elementary School were able to discuss ecosystems, specifically coral reefs, with an expert from WiseOceans in the United Kingdom recently.
Ms. Toub says this is the third virtual field trip her class has taken over Skype this year, but is the first time they have gone outside the United States.
"I choose our field trips based on what we have been studying in the classroom," Ms. Toub said. "So far we have skyped to Yellowstone National Park and Mount Rainier. It gives the students a chance to talk and interact with someone not from Medina. I think that is very important because many of my students have had limited opportunities to travel outside of our state, let alone our country."
Engaging with experts in the topics they are studying has been an amazing experience for the students.
"The students really get a lot out of these sessions and they not only learn how to be a good audience, but they get a chance to practice speaking and interacting with someone outside of their normal daily life," Ms. Toub said. "They get to ask questions of experts who are in that field and it is much more interactive than just learning in class."
The students talked to Charlotte Orba, a WiseOceans' Marine Educator and Communications Officer as part of their Dive In Classroom series and had a great time interacting with her. She discussed the marine life in the Seychelles, a place where she lived for several years.
"We have been talking about ecosystems and how certain animals are better suited for certain environments," Ms. Toub said. "Also we have been discussing human impact on certain ecosystems, specifically coral reefs and what we can do to protect  these fragile ecosystems. Ms. Orba was great and now we all want to visit the Seychelles."