Medina students vow 'Never Again' and urge political leaders to address school shootings
MEDINA – The high school student body gathered for an assembly this afternoon, one month after 17 people were killed in a school shooting at Marjory Stoneman Douglas High School in Parkland, Fla.
Students across the country walked out of school in a protest over the series of mass school shootings for nearly two decades now.
Medina students stayed inside the school and remembered the lives lost in Florida. The students viewed a slide show in the auditorium with photos of the 17 people killed at Marjory Stoneman Douglas.
Devin Hogan, a Medina student, read descriptions of the people who were killed, which included three adults and 14 children. The students were on the swim team, in the winter guard, the marching band. They danced and were college bound. Others were in the Junior ROTC and planned to serve in the military.
"Some of these children described may remind you of someone you know," Hogan said. "Maybe it even reminds you of yourself. It's been 18 years since Columbine. Things have to change. I feel this is the first step."
Shelby Green, president of the Medina Student Association, shared her disappointment that school shootings have become " a weekly headline in our society."
Columbine in Colorado was the first mass school shooting nearly 20 years ago. Most of the students in Medina school district weren't even born when two students killed 12 of their classmates and a teacher at Columbine on April 20, 1999.
"Somehow things have gotten worse," Green said. "Schools are supposed to be places of learning and growth and somehow, they've been twisted into battlefields."
The assembly's first goal was to honor and mourn the victims in the school shooting in Florida. But Green also said the community and country need to take steps to ensure "that such acts are no longer a weekly headline in our society."
The national walkout today represents students exercising their voice.
"Shame on our politicians who cannot set aside their differences and come together to fix this problem," Green said. "This is not a matter of party or politics, it's a matter of action. The days of noting red flags after the fact have to be over. There needs to be more funding for counseling, more help for at-risk students, more awareness of potential threats. All parts of government must work together so that people are no longer falling through the cracks."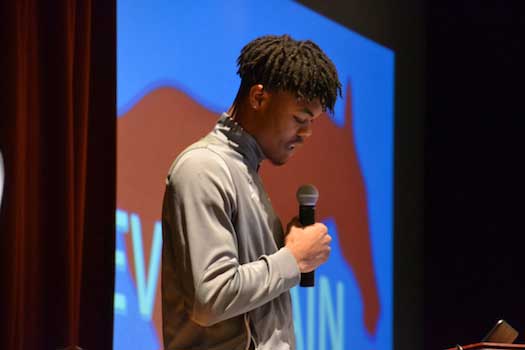 Jalin Cooper, a Student Association member, said there are hats with the logos from the schools in Medina and Marjory Stoneman Douglas, with "NeverAgain" embroidered on the back.
For every hat purchased in Medina, one hat will be donated to Marjory Stoneman Douglas.
The school resource officer also addressed the students. Corey Ambrose is a Medina police officer who works with students at the school district.
"I am here for you," he told the students in grades 8 to 12. "Please be sure to come and report any issue big or small, legal or illegal. I am here to work with you to also show that there is a human side to police officers. We are not robots. We all have families and like to have fun as well, but when there is a job to be done, it needs to be done."
Ambrose said schools have become much safer in recent years. Schools have made significant upgrades in security with ID card key passes for staff to unlock doors. Visitors are only allowed to enter at a main entrance, and there stronger outside doors and windows that are impact resistant.
"This means it is increasingly difficult for someone to enter any of our school buildings," Ambrose said. "All of these advancements make this building a safer place to get your education."
School leaders also work with law enforcement on lockdown drills, fire drills and mass casualty drills (when school is out of session).
Ambrose said everyone should slow down and pay attention to their surroundings. "This is not one person's job, but the responsibility of everybody."
He urged the students to first control their own actions and decisions, and to also be vigilant in reaching out to others.
"The message that you can take away from today's assembly is that safety is the responsibility of everyone," Ambrose said. "If you see something, say something. When we all work together, great things will happen."