Medina sets Aug. 8 for Farm to Table Dinner on Main Street
MEDINA – For several weeks, planners have been busily preparing for the fourth annual Farm to Table Dinner in Medina. The event is hosted by the Orleans Renaissance Group, Inc., as part of the annual activities of the Canal Village Farmers' Market, a Medina enterprise also sponsored by ORG.
Tickets for the 2019 Farm to Table Dinner go on sale Monday, July 8, at 10 a.m. for $125 each. They will be available online at www.medinaalive.com and at the English Rose Tea Shoppe (cash & check only), 527 Main St., Medina, (585) 798-4410.
"If it is your intention to attend the dinner, my advice is don't hesitate one minute to buy your tickets!" said Chris Busch, president of the Orleans Renaissance Group. "This event will sell out within minutes, so don't delay in securing your tickets."
The event delivers an exquisite, six-course, gourmet meal. The dinner also provides an opportunity to experience how local chefs capitalize on Orleans County's number one industry: agriculture.
This years' dinner event will be held on Thursday, August 8, at 6 p.m., once again right down the center of Medina's Main Street Historic District. Should it rain, the event will be held at The Gallagher in Medina.
"The effect is something out of a Hallmark movie," wrote Francesca Bond in a piece for the Buffalo News Gusto, entitled "Inside Medina's small-town culinary and cultural renaissance," published March 27, 2019.
"Francesca got it exactly right," said Cindy Robinson, ORG board member. "The evening is pure magic – the setting, the food, the atmosphere – there's nothing quite like it."
The event will again host 225 dinner guests with the table stretching nearly the entire length of North Main Street.
Guests will again be treated to live music, this year provided by What About Jane, a popular coffeehouse trio from Holley, NY, and frequent performer at Medina's farmers' market.
Upon arriving, guests will be treated to a complimentary Chef's Course paired with award-winning Cuvée Reserve Brut, courtesy of Schulze Vineyard & Winery of Burt, NY. The dinner will deliver a sensational locally-sourced, six-course meal with Chef Michael Zambito of Zambistro once again collaborating with local culinary colleagues.
Among those joining Zambistro will be Mariachi De Oro, Mile 303, Sourced Market & Eatery, Bent's Opera House and the Shirt Factory. All ingredients used in the meal will be locally sourced and farm-fresh, provided almost entirely from the vendors at Canal Village Farmers' Market, Medina.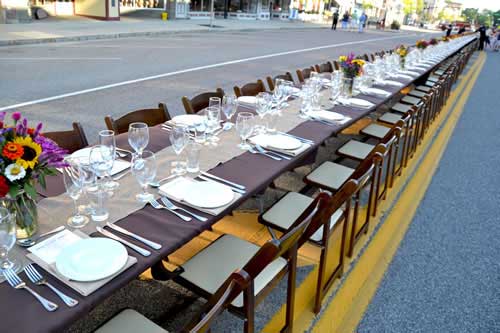 "In addition to all of last years' chefs returning, we're excited to have Chef Lionel Heydel of Bent's Opera House joining us this year," said Cindy Robinson. "We'll be seeing much more of Chef Lionel here in Medina in the coming months."
Each course will feature pairings from Niagara Wine Trail wineries, including Leonard Oakes Estate Winery, Medina; Schulze Vineyard & Winery, Burt; Victorianbourg Estate Winery, Wilson; Liten Buffel, Middleport and 810 Meadworks, Medina.
"As you can imagine, making an event like this a reality requires a great deal of time, talent and treasure," Busch said. "One of the hallmarks of Medina's success is everyone working together to make good things happen and this dinner is no exception."
Annual corporate sponsors of the Farm to Table Dinner include Zambistro, PridePak Inc. with Steve Carr, CEO; Takeform  in Medina; Bent's Opera House, Medina; and Generations Bank of Seneca Falls.
With each passing year, the demand for Farm to Table Dinner tickets has been great. To help create more opportunity for people to secure tickets, ORG will raffle off two pairs of two tickets over the coming days and weeks.
"People actually begin inquiring about the tickets in January," said Busch. "There's a limited number and they go very quickly. However, there will be two opportunities to win two dinner tickets this year. In addition to the annual ticket raffle at the Canal Village Farmers' Market, we've prepared another really fun opportunity to win a pair of tickets."
The farmers' market raffle started June 29 and will run through Aug. 3. Every $5 spent at the market earns a chance in a drawing for two tickets. The market runs every Saturday from 8 a.m. to 1 p.m., at 127 West Center St.
This Saturday there will be a "crawl for tickets," Busch said. To participate in the crawl, participants will pick up an official "crawl card" at the managers' tent at the Farmers' Market. The card will be used to track a visit to each of the businesses listed on the back throughout the day. The idea is to tour Medina, patronize those establishments and get the card officially stamped. Each stamp is worth one chance in the ticket drawing. Crawl cards are turned in at the Shirt Factory in exchange for tickets to enter the drawing.
Participating businesses include Canal Village Farmers' Market, Mile 303, Zambistro, Mariachi De Oro, and Shirt Factory.
A live prize drawing will take place at the Shirt Factory, 10 p.m. Participants must be 21 and over to enter/win.