Medina Scouts will be collecting food donations for local pantries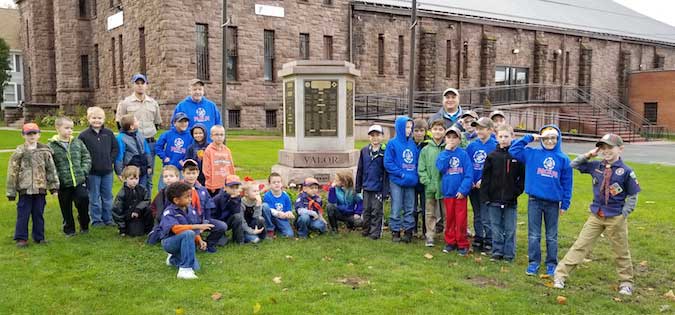 Courtesy of John Dieter, Cub Master, Pack 35 in Medina
MEDINA – This past weekend Cub Scouts Packs 28 & 35 spent time canvasing the Village of Medina putting door hangers on every house door in the village. Scouts are asking for non-perishable food donations to benefit local food pantries for this upcoming Saturday, November 11.
This is an annual event that the BSA Scout Troops & Cub Scout Packs performs. These service projects are part of the Scouts' rank advancement, and also teaches the Scouts to be active and involved in community service.
Village residents are asked to put the non-perishable foods in a grocery bag in a visible spot by 9 a.m. this Saturday, so the Scouts can easily pick up the food donations. Members from Boy Scout Troops 28 & 35 will be picking up the food donations and taking it to the local food pantry.
The attached picture is of Pack 35 assembling at the Company F-Troop Memorial by the YMCA where they held a flag ceremony and learned about the memorial in preparation for Veterans Day this Saturday. After the ceremony they went out to the neighborhood and handed out the door hangers.