Medina Scouts braved cold in Saturday cleanup by Culvert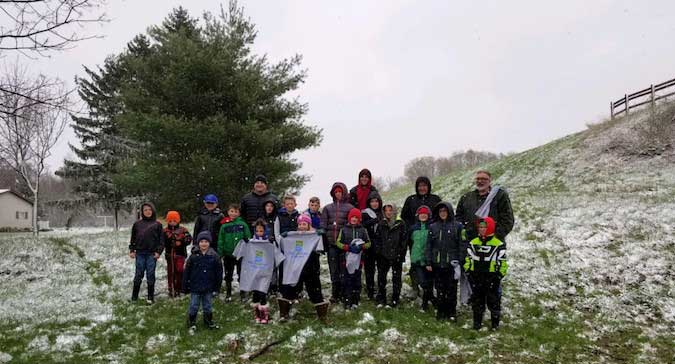 Photo courtesy of John Dieter, Cub Master of Pack 35
MEDINA – Cub Scouts and Boy Scouts from Pack & Troop 35 braved the weather on Saturday morning to pick up trash at the Canal Culvert on Culvert Road in Ridgeway. They also picked up garbage on the towpath above as part of the Canal Clean Sweep Program.
The New York State Canal Corporation and Parks & Trails New York sponsored the spring cleanup this past weekend to help maintain sections of the Canalway Trail. They supplied garbage bags, provided pickup for garbage collected, and gave T-shirts for the volunteers for the 14th Annual Canal Clean Sweep Event.
Medina Lions reschedule cleanup day for May 11
Cleanup along the canal near the Prospect Street lift bridge, Lion's Park and village parks was canceled Saturday due to the weather.
The Lions have sponsored the event for decades, in cooperation with local Boy Scouts, Medina Masons and the Iroquois Job Corps. There are usually 40 Lions, Scouts and others who participate.
According to Lions' member Don Colquhoun, the even has been rescheduled for May 11 at 9 a.m. As has been the tradition, the Lions will cook hot dogs and provide drinks for all volunteers.