Medina school district tweets for Biden, Trump to better role models after taunts of fight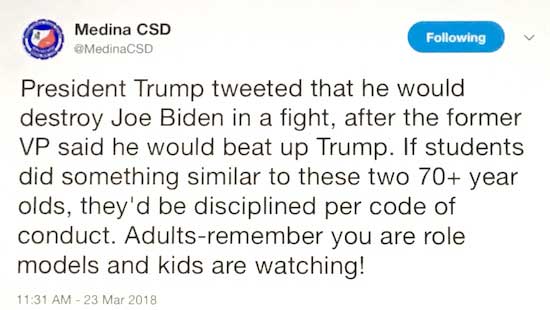 MEDINA – The school district has tweeted its disapproval of recent comments by former Vice President Joe Biden and President Donald Trump, where they challenge each other to a fight.
Biden started taunts on Tuesday when he was speaking an anti-sexual assault rally  at the University of Miami. He told students if he and Trump had attended high school together, Biden probably would have "beat the hell out" of Trump.
Trump on Thursday morning put out a tweet: "Crazy Joe Biden is trying to act like a tough guy. Actually, he is weak, both mentally and physically, and yet he threatens me, for the second time, with physical assault. He doesn't know me, but he would go down fast and hard, crying all the way. Don't threaten people Joe!"
The Medina School District today at about 10:30 this morning urged Trump and Biden to be better role models.
"President Trump tweeted that he would destroy Joe Biden in a fight, after the former VP said he would beat up Trump," Medina Central School District tweeted. "If students did something similar to these two 70+ year olds, they'd be disciplined per code of conduct. Adults-remember you are role models and kids are watching!"