Medina scene among canal photo contest winners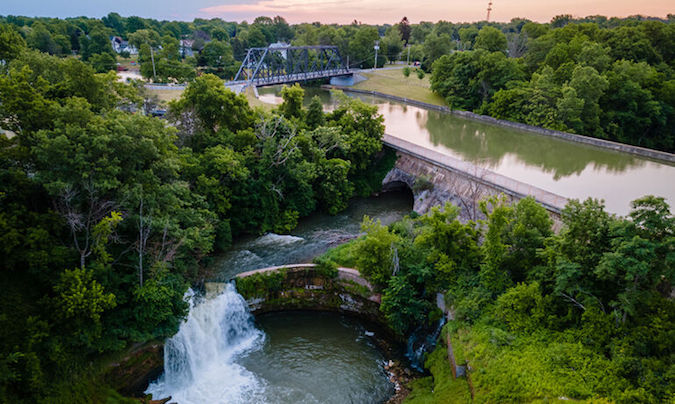 This photo – "Medina Falls Sunrise" – of the Erie Canal includes the waterfalls on the north side of the canal near Horan Road. The photo was taken by Neil Ferguson of North Tonawanda and won second place in the "Along the Trail" category of the 2021 Erie Canalway Photo Contest.
This is the only picture in Orleans County among the 12 winners in the contest, which included about 300 submissions.
The winning photos will be featured in a 2022 calendar. The calendar will be available for free at libraries, visitor centers, and by request beginning in December.
"These remarkable images showcase the beauty, history, and diversity of the Erie Canalway National Heritage Corridor. They remind us that the NYS Canal System is a national treasure worthy of preservation and celebration," said Bob Radliff, Executive Director of the Erie Canalway National Heritage Corridor.
Winning images in the 16th annual contest can be viewed online by clicking here.
Winners hail from across the Canalway Corridor and include images taken in all seasons.
"I applaud the deserving winners of the Erie Canalway's annual photo contest who each uniquely captured the natural beauty of this iconic waterway," said New York State Canal Corporation Director Brian U. Stratton. "The Erie Canal's history has been well-documented for centuries through images and photography, and these photos will serve not only as a reminder of the Canal's great presence in our State, but also of the timelessness of the Erie Canal and its past, present, and future legacy."