Medina Rotary inducts new members, honors 2 others for service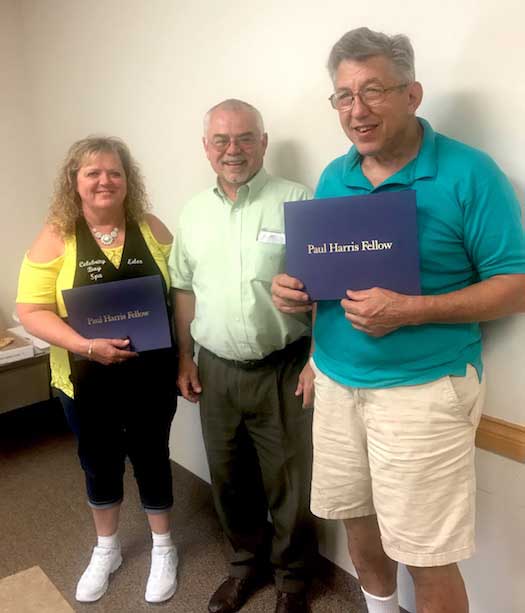 Provided photos, Medina Rotary Club
MEDINA – The Rotary Club of Medina honored two of its members as Paul Harris Fellows, the highest award a Rotarian can receive. The awards were presented to Medina Rotarians Edee Hoffmeister (left), owner of Celebrity Day Spa, and Gary Lawton (right), co-owner of Karen's Collectibles & Upholstery. The presentation was made by Past President Bill Bixler (center) at the regular meeting on Wednesday.
Edee and Gary are long-time Rotarians who support every event sponsored by the Rotary Club through their presence and hard work. Both have held several offices throughout their tenure in the club including president.
The presentation of Paul Harris Award is Rotary Foundation's way of expressing its appreciation for substantial contributions to humanitarian and educational programs. It is named for Rotary's founder, Paul Harris, a Chicago lawyer who started Rotary International with three business associates in 1905.
Edee and Gary join a remarkable company of persons who are recognized for their investment in the ideal of good will, peace and understanding. It is the goal of Rotarians the world over and one that both Edee and Gary share.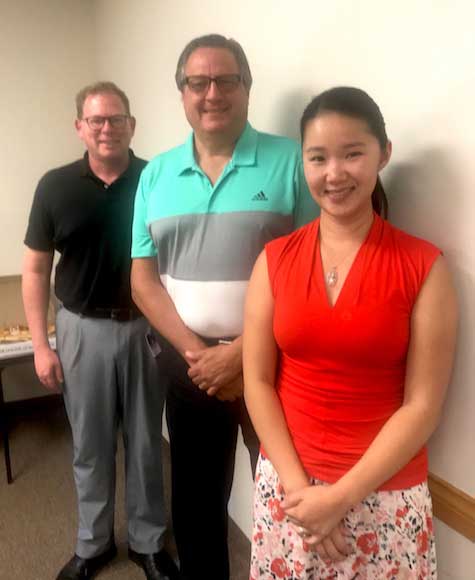 The Medina Rotary Club also installed two new members at meeting on Wednesday.
President Carl Tuohey (center) welcomed new members Mike Cavanagh, left, who is principal at Medina High School and Angela DiRosa, executive director of the Orleans Community Health Foundation.
Club members are excited to have Mike and Angela join Medina Rotary. They are both active members of the Medina community and look forward to working with Medina Rotary on the many programs involved.
The next event the club will support is the Super Cruise on Main Street in Medina on Wednesday, August 29.