Medina recognizes 2 from Class of 1998 as Distinguished Alumni
MEDINA – The two new honorees of Medina's Distinguished Alumni, who both graduated in 1998, praised their upbringing in Medina and a nurturing small school for preparing them for rigorous careers.
Anne Joynt and Dr. Leanne (Hermann) Olshavsky were both recognized today at Medina High School during a ceremony in front of the student body. Both have achieved excellence in their careers.
Joynt is a junior partner with Lipsitz & Ponterio, LLC, a law firm in Buffalo. She represents people who have suffered injuries as a result of exposure to asbestos, as well as those affected by childhood lead poisoning, motor vehicle accidents, construction accidents, medical malpractice and defective products.
Joynt, the daughter of retired Oak Orchard Elementary School Principal Cathy Joynt, has been named Woman Lawyer of the Year by Women Lawyers of Western New York. She recently served as president of the Western New York Chapter of the Women's Bar Association, a statewide organization with 20 member chapters dedicated to the advancement of women in the law and in society. (Her first job when she was a teen-ager was at Blissett's in Medina as a sales associate.)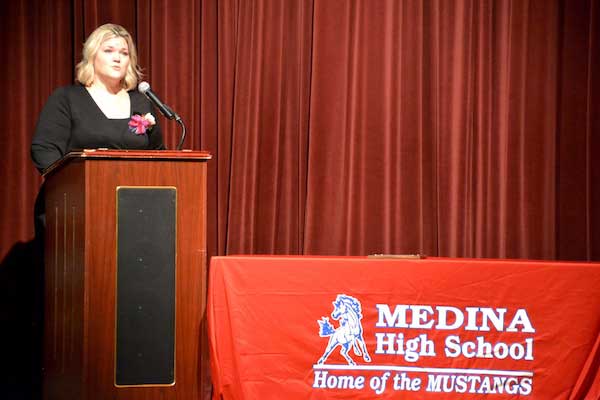 Anne Joynt urged the students at the Medina assembly to follow a creed of kindness in how they treat others in their professional and personal lives.
Medina may be a small school, but Joynt said that environment fosters enduring friendships.
She had an opportunity to visit Europe as a student at Medina, and that experience instilled a love for travel and seeing the world. Also at Medina, she was challenged in the school's English Department, and that led her to pursue an undergraduate English degree at Geneseo State College before she went to law school at the University of Buffalo.
Joynt said she was thrilled to be recognized by the school on the same day Medina honored one of her classmates, Dr. Leanne (Hermann) Olshavsky, an obstetrician and gynecologist in Cincinnati at The Christ Hospital.
Olshavsky earned her undergraduate degree from Miami University in Ohio. She attended medical school and completed her residency in Obstetrics and Gynecology at the University of Cincinnati College of Medicine, where she was also chief resident.
"My love for science started in this building," she told Medina students today.
She urged them to not be motivated by mere happiness, but to search for meaningfulness in their careers and personal lives.
A focus on meaningfulness ultimately leads to long-term happiness, with a connection to a larger purpose over dollar signs, she said.
Olshavsky also is in Medina's athletic hall of fame. She said there isn't a "one size fits all" path to meaningfulness.
The two distinguished alumni were praised as examples for Medina students. Michael Cavanagh, the high school principal, said the two alumni show the power of working hard and completing tasks.
"With persistence anything is possible," he said.
Medina accepts nominations for distinguished alumni each year by July 31. Then a committee of current and former teachers and administrators, and alumni will review the nominations and select the inductees. The ceremony is held in the fall during a school assembly.
Cavanagh said the school wants to honor alumni, promote school spirit and pride, and pick alumni who can inspire current students.