Medina puts together challenging scavenger hunt to learn about community, win prizes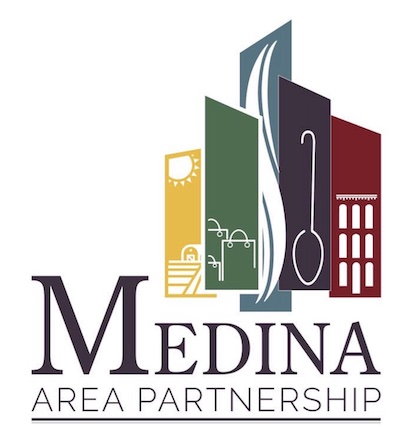 MEDINA – The Medina Area Partnership has compiled a 20-question scavenger hunt where participants will develop a deeper understanding of the community and also have a chance to win prizes.
Tim Elliott of MAP put together the scavenger hunt where people earn tickets for prizes for every correct answer. Three of the 20 questions are particularly challenging and those ones are worth 10 tickets for the right answers.
Each correct answer gets a ticket with a name put in a hat where the family prizes include items from Case-Nic Cookies and Della's Chocolates. The adult prize is a night on the town, Elliott said.
An example of a regular question: "Who is buried to right of one of Medina's most famous residents who survived the Titanic at age 27?" Clue: May Howard is buried in the Kenyon family plot at Boxwood.
"It's not something you can Google," Elliott said about the questions.
His goal is to get people out exploring and learning about the community.
"You don't have to do all in one sitting," he said. "It's not meant to be super easy. The concept is to get people out of the house and see more of Medina."
Elliott is the former owner of the Into the Enigma escape room. He currently runs the axe range at 810 Meadworks and is a village trustee.
Elliott and Scott Robinson, MAP president, want to make the scavenger hunt an annual summer challenge in Medina.
With the challenge, when people locate the area of the clue, they will be asked an additional question to confirm it's the correct place. For every question answered correctly, participants earn a ticket towards the grand prize. The three bonus questions are worth 10 tickets each.
"Tim has been working on this event for years and I'm thrilled to see it coming to fruition," Robinson said. "Whether you're approaching this as a family event, an afternoon date, or just something to do, we think you'll have a great time. It's a great opportunity to couple an activity with visiting our shops and other establishments."
The clue sheet is available for $10. The hunt can be attempted in a couple of hours, or it can completed over multiple days during July and August.
Completed scavenger hunt forms must be submitted by Sept. 1 to be entered into a drawing for either a family prize pack or an adult night out. Each prize is valued at $150.
For more information or to purchase the clue sheet, click here.