Medina pickleball tourney doubles participants in second year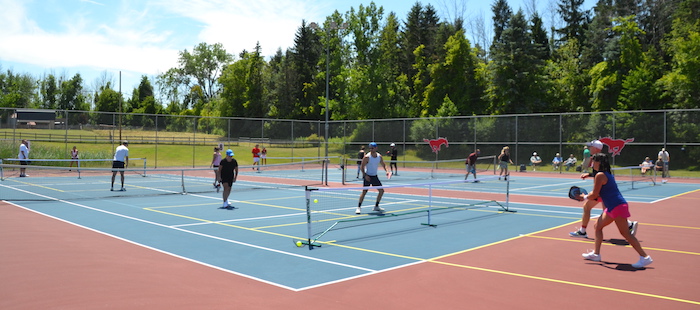 Photos by Tom Rivers
MEDINA – The Medina Rotary Club is hosting its second annual pickleball tournament this weekend at the Medina High School tennis courts.
The participants nearly doubled from a year ago, going from 47 to 84.
There are five events in the tournament: Men's Singles, Women's Singles, Men's Doubles, Women's Doubles and Mixed Doubles. Each event is broken into three categories based on skill level.
Medina Rotary Club member Carl Tuohey is one of the organizers of the event for the Rotary Club. Tuohey is regular pickleball player in the courts at the Knights of Columbus on Main Street, where the basketball court on the third floor is used for pickleball.
Many local service clubs do golf tournaments. Medina Rotary wanted to embrace a growing sport with pickleball and also put on a unique local tournament.
In pickleball, the courts are smaller than in tennis. The pickleball court is 20 feet wide by 44 feet long.
The tournament continues today with men's and women's doubles competition.
Results from the first day include:
Men's Singles Advanced – JJ Hughes (Bronze), David McGinnis (Gold) and Will Soos (Silver)
Women's Singles – Hannah Munley (Silver), Lana Ivy (Gold) and Robyn Owens (Bronze)
Men's Singles Beginner – Aaron Schreiber (Silver), Anthony Brophy (Gold) and Jeffrey Schwertfeger (Bronze)
Mixed Doubles Advanced – Brandon Carey and Renee Abbot (Silver), David McGinnis and Lana Ivy (Gold), and Hannah Munley and Will Soos (Bronze)
Mixed Doubles Intermediate – JJ Hughes and Kim Cuskey (Bronze), Jeanne Whipple and Eric Palmer (Gold), and Michele Mas and Scott Read (Silver)
Mixed Doubles Beginner – Russ Hameister and Karen Redding (Bronze), Karen Betz and Travis Lodyga (Gold), and Kevin Ormsby and Doris Mo (Silver)