Medina PD welcomes donations for K-9 vehicle
MEDINA – The Medina Police Department is trying to get a new vehicle for its K-9 handler and dog.
The current vehicle is from 2008 with 120,000 miles. The department welcomes donations, and will give a stuffed animal of a K-9 dog that resembles Kye for every donation at $20 or more. The stuffed animal shows a dog wearing a police vest.
Kye is a Belgian Malinois that works each day with his partner/handler Sgt. Todd Draper. Kye joined the department in 2012.
The dog's main duties are tracking, drug detection, building searches and criminal apprehension.
"Hopefully many of you have met Kye during public events, school visits, or demonstrations," Police Chief Chad Kenward and Lt. Draper wrote in a fund-raising appeal to the community. "He has become a well known member of our Department and is quite popular with citizens of all ages."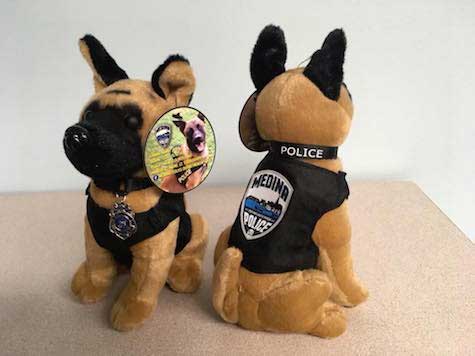 Kenward and Draper said the Police Department has reached out to businesses and community members for donations, and wants to extend the opportunity to everyone to help with the new vehicle. (Kenward and Draper said the stuffed animal of Kye would make a nice Christmas present.)
Any donated funds will be deposited directly into the K-9 fund and only be used for expenses associated with the K-9 program, Kenward said. Cash or check will be accepted, receipts will be given for all donations.  Checks can be made out to the "Medina Police Department K-9 Fund."  Donations can be made at the Medina Police Department, 600 Main St., or at the the Village Clerk's Office, 119 Park Ave., or by speaking to Lt. Todd Draper.
For more information, call the Police Department at (585) 798-5602.