Medina PD offers decal program to alert first responders of people with autism/special needs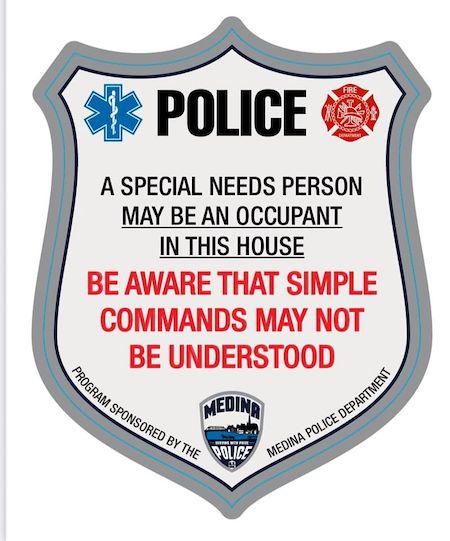 MEDINA – The Medina Police Department is offering a program where decals can be put on homes or vehicles to alert emergency responders that there may be a person there with autism or special needs.
"The decals enable responding units to draw on their training and understand that a person in the home or vehicle may not speak, respond to, or comply with verbal commands; may hide, or wander off, or may have no awareness of danger," the Police Department stated in a notice to the community.
This decal may be helpful for individuals with autism spectrum disorder, auditory processing disorder, intellectual/developmental disability, Down Syndrome, Traumatic Brain Injury, PTSD, Dementia, Alzheimer's Disease or other disabilities that prevent the individual from reacting appropriately in emergency situations, the department said.
The Medina PD is providing these decals free of charge to village residents once an attached application is completed (click here to see the application).
The decals should be placed near the front door of their home and/or the rear window of a vehicle so law enforcement officers can easily see them.
After registration for the program, the Medina PD will request that the Orleans County Dispatch note the address in the county system with a brief description of the special needs or diagnosis. Residents who wish to register for the program but do not wish to display a decal, may do so by filling out the application and requesting zero decals. The decals should be removed if the individual with special needs/autism no longer resides in the home or rides in the vehicle.
For questions regarding the Medina Police Department Decal program, email the Medina PD at medinapolice@villagemedina.org.
Applications for the decals also will be available at the Medina PD tent next Tuesday (Aug. 2) at National Night Out. That will be from 5:30 to 8 p.m. outside the Wise Intermediate School.