Medina native, an acclaimed author, has new book out

Julie Berry visits Medina students, Lee-Whedon Memorial Library to discuss 'The Emperor's Ostrich'
Photos by Tom Rivers
MEDINA – Julie Berry, a Medina native, returned to her hometown on Thursday to discuss her latest children's book, "The Emperor's Ostrich."
She met with Medina middle school and high school students to discuss her books and share tips on writing earlier n the day before doing a book reading and discussion at Lee-Whedon Memorial Library on Thursday evening. (She is pictured at Lee-Whedon reading from her latest book in the top photo.)
Berry, a 1991 Medina graduate, now lives in Los Angeles. She said she is grateful to have grown up in a small town with a demanding school district and supportive community. She said her teachers prepared her for academic rigor, and she felt the love and support of the community as a student.
"I was so fortunate to grow up here and have a childhood where I had the peacefulness of the countryside," she said at Lee-Whedon.
Medina offered her a "world-class education" from teachers who were "phenomenal, deeply committed educators."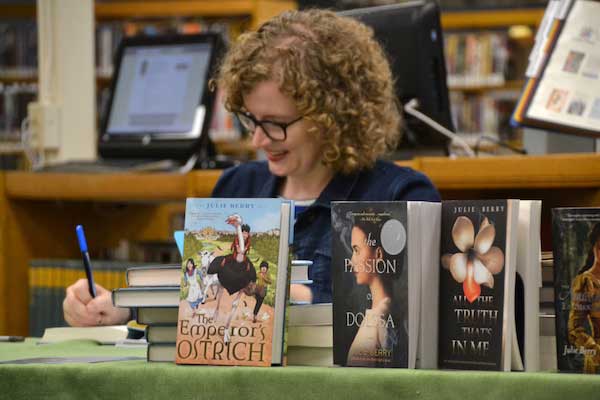 Julie Berry signs copies of her books at Lee-Whedon. She is an award-winning author of youth adult literature. "The Passion of Dolssa" is a 2017 Michael L. Printz Honor title, a New York Times Notable Book and a Finalist for the Los Angeles Times Book Prize.
"All the Truth That's In Me"  and "The Scandalous Sisterhood of Prickwillow Place" have also been recognized with prestigious awards.
"The Emperor's Ostrich" was released in June from Roaring Brook Press. Berry said it is "light and fluffy" compared to some of her more recent works.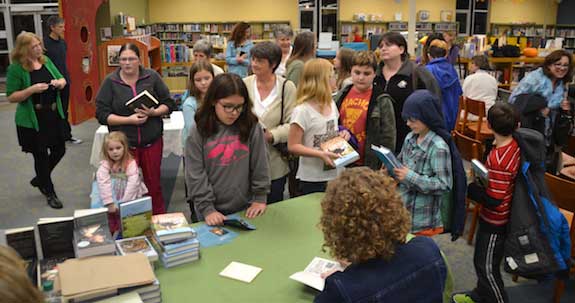 Julie Berry signs books for fans at Lee-Whedon, including Mila Molina of Medina, second from left.
Berry will be at Albion Central School today, leading writing workshops for students.
Berry is one of 46 authors who will be at Monroe Community College in Rochester on Saturday for the 20th annual Rochester Children's Book Festival from 10 a.m. to 4 p.m.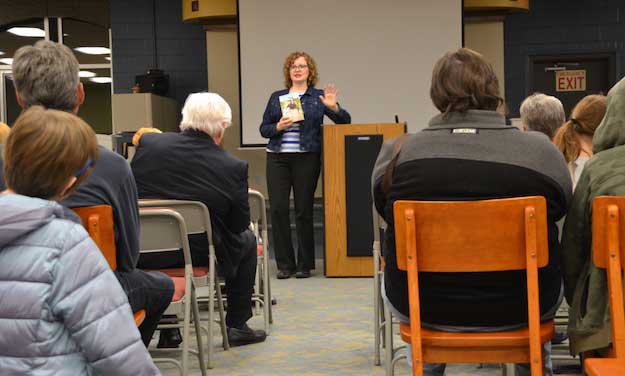 Berry discusses her latest book at Lee-Whedon. She has made several local appearances in recent years when she has a new book out.
Berry is working on a new book set during World War I. She also has written a Christmas picture book. Those two books are expected to be released in 2019.
For more on Julie Berry, click here.