Medina Marching Band takes 1st again with highest score of 14 bands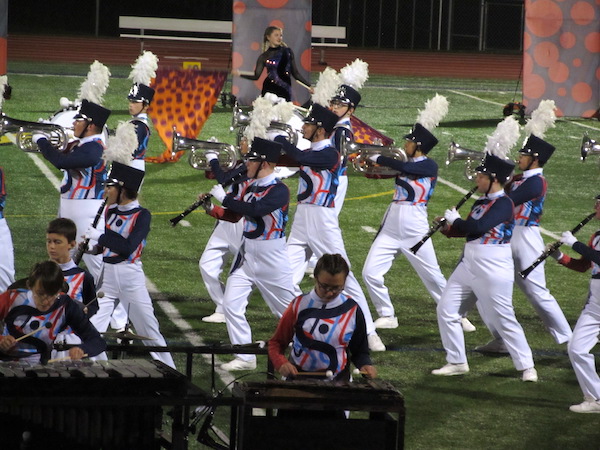 Photo and information courtesy of Medina Marching Band
VICTOR – The Victor Marching Band hosted a competition on Saturday with 14 bands from around Western NY competing. Despite the ominous prediction, the weather held out allowing all of the  bands to compete.
In SS1, Medina earned 1st place with a score of  88.85 followed by East Irondequoit in 2nd with 85.75.
There were 4 bands in the SS3 class and Norwich earned 1st place with a score of 76.40 followed by Marcus Whitman in 2nd at 76.35, Leroy in 3rd at 74.90 and Falconer-Frewsburg in 4th with 72.45.
The LS3 class had 2 competitors with Greece earning 1st place at 80.05 followed by Hilton with 78.55.
Webster led the LS2 class with a score of 84.80 followed by West Seneca in 2nd place at 83.50 and Orchard Park in 3rd place with 79.95.
There were 3 National bands performing and Victor earned 1st place with 88.55, Lancaster in 2nd at 88.30 and Jamestown in 3rd with 83.55.
Medina's next competition is Saturday in Greece.
The NYS Field Band Championships are on Sunday, Oct. 31, at the Carrier Dome in Syracuse.  Travel time from Medina is approximately 2 1/2 hours and parking at the Dome is usually $10 a car. Tickets can only be purchased at the Dome and are $19 for adults, $13 for senior citizens 65 and older, and $13 for and students 18 years and younger. This ticket price is for the whole day.  Everyone must wear a mask while in the Dome except while eating. This is for vaccinated and unvaccinated people. If you are bringing anything into the Dome it must be in a clear bag and not very big.  SS1 class begins at 5:30 p.m. and Medina performs at 5:45 p.m.