Medina Marching Band recognizes 20 seniors in challenging year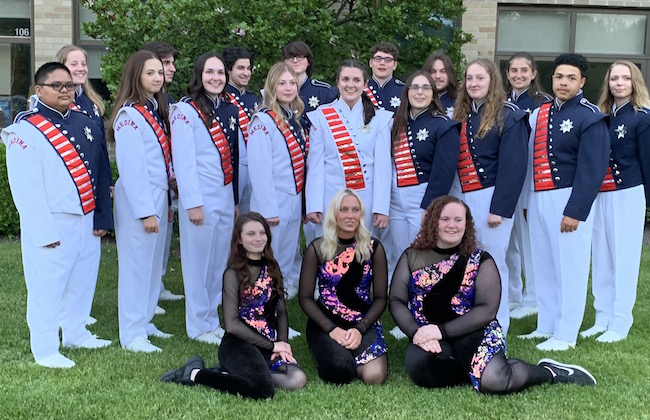 Photo and information courtesy of Medina Marching Band
MEDINA – On Sunday, June 13th, the Medina Band Boosters and the parents of the 2021 seniors hosted an abbreviated form of a band banquet to recognize this group of students who worked through an unusual and challenging year when they didn't have an opportunity to perform or compete in any events.
There were 20 seniors recognized at the event, which was held at the East Shelby Fire Hall. It started with a prayer offered by Terry Steele.
The NYSFBC Scholarship was given to Bailey Jackson; the Mustang Band Booster Scholarship to Amanda Woodruff;  the Mustang Band Memorial Scholarship to Chris Woodroe and Jaden Pencille; the Steele Family Award to Faith Ann Vanderwalker; the Joseph C. McKain award to Kaylee Lacey and Hannah Kenward; the Alfred Hartway Drum Major Award to Bailey Jackson, Mark Barcena and Chris Woodroe.
Each senior was given a plaque, a picture of the senior group, a medallion, 3 buttons with their picture on it, a DVD of their past 5 shows, and a 2′ x 3′ banner with their picture in uniform.  Mr. Steele recognized each senior and shared personal memories of his time with them and the growth and accomplishment he saw in each of them. A couple of past band performances were viewed along with a slide show.
The band has started practicing for a fall show and Medina is expecting to hold our Fall Festival Show on Sept. 25th. Band camp will be held the week of August 16th.