Medina man sentenced to 4 years for assault of corrections officer
Sebastian Bonk also distributed counterfeit money in community
ALBION – A Medina man who injured a corrections officer and two nurses while eluding custody was sentenced to 4 years in state prison on Monday.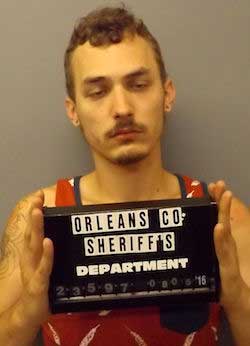 Sebastian L. Bonk, 25, was given the maximum sentence as part of a plea deal.
Bonk on March 13 pleaded guilty to second-degree assault and attempted criminal possession of a forged instrument. He faced the forged instrument charge for knowingly distributing counterfeit 20-dollar-bills.
Bonk was in jail on Aug. 4, when he was taken to Medina Memorial Hospital for a health issue. Bonk was at the hospital at 11:20 p.m. when he ran out of the Emergency Department door, through the lobby and out of the hospital.
Bonk had pulled his leg shackles up higher on his legs to make it easier to run. Bonk was pursued by two nurses along with a correction officer. The nurses and corrections officer were able to catch Bonk and take him to the ground about 80 yards north of the hospital on Ohio Street. Bonk injured the three during the process, leading to him being charged with three counts of second-degree assault, which carries a maximum of seven years in prison.
As part of a plea agreement, Bonk faced a maximum of four years in prison.
"He does have a very rapid series of issues," Bonk's attorney Nathan Pace told Judge James Punch during sentencing.
Pace said Bonk struggles with fear, anxiety and drugs fueled the recent crimes. Pace asked the judge for leniency, less than the 4-year maximum.
"I'm not proud of my actions," Bonk said during sentencing. "I regret my actions sank to those depths."
Bonk said he was working on getting his life together but struggled after his grandfather died of cancer.
Punch said Bonk has a criminal history and the recent crimes were not impulsive acts. He said Bonk passed many $20 bills around the Medina community and also struck the corrections officer "with a series of blows."
The judge sentenced Bonk to 4 years on the assault charge and 1 1/3 to 4 years for the forged instrument crime, with both sentences to be served concurrently. He also will have three years of post-release supervision.