Medina Main Street dinner becomes a hot ticket
137 enjoy 5-course meal on blocked off section of downtown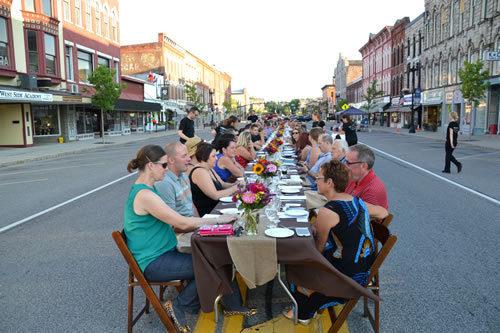 MEDINA – A first ever Farm-to-Table Dinner event in Medina proved popular this evening with 137 people enjoying the fine dining experience on a closed off section of Main Street.
These types of dinners are more typical in trendy urban areas, but Medina proved an ideal setting with a vibrant downtown with well-maintained buildings.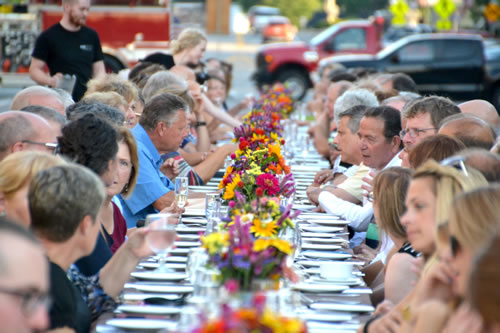 Before the food was served, the group was engaged in conversation at a long table on Main Street.
Michael Zambito, chef at Medina's Zambistro restaurant, prepared a full five-course dinner. Each course included pairings from local Niagara Wine Trail wineries, 810 Meadworks and a WNY brewery.
"Medina showed it can pull off these types of events, too," said Jonathan Oakes of the Leonard Oakes Estate Winery in Medina, who was one of the dinner-goers this evening.
He was part of a similar event in Rochester at High Falls where Leonard Oakes provided the wine and Oakes discussed different types of wine with the diners.
The events appeal to people looking to slow things down and enjoy an authentic experience with locally sourced food, Oakes said.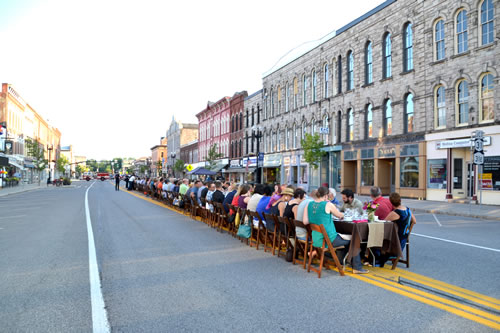 The event was organized by the Orleans Renaissance Group, which is using proceeds to support the Canal Village Farmers' Market. ORG started the farmers' market last year. It now draws about 500 people every Saturday at the corner of West Center Street and West Avenue.
The market can use the funds for entertainment, insurance, building improvements and to "make it more welcoming," said Gail Miller, the market manager.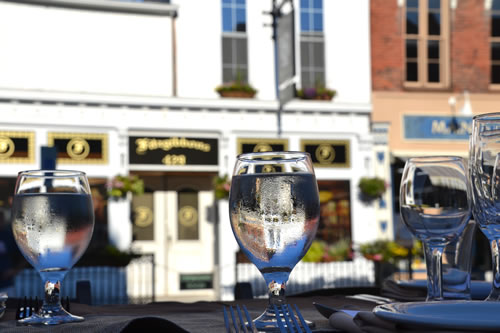 Glasses are filled with water. The soon-to-open Fitzgibbons Public House is in back.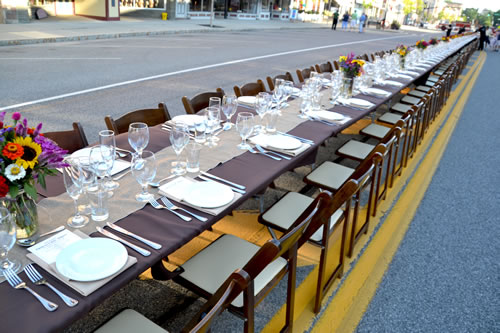 Zambistro set the table for fine dining right on Main Street. Tickets were $100. The Orleans Renaissance Group hoped it could sell 100. It sold 137 with more people interested.
Chris Busch, ORG president, said there was strong demand for the debut event. He said the proceeds will allow the ORG "to take the (farmers') market up to the next level."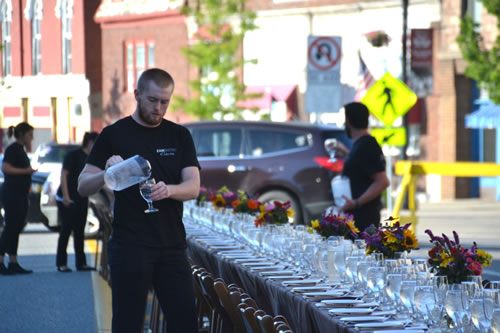 Liam Cooper from Zambistros pours water in glasses before the event started.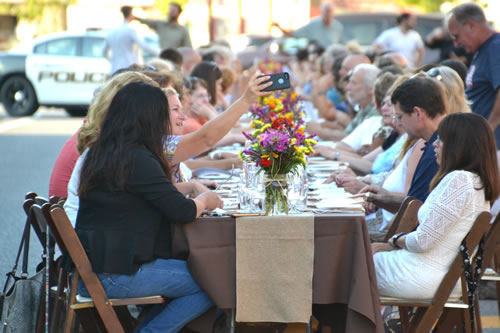 The event, with a long dinner table on Main Street, provided a backdrop for some iconic images.
The ORG also is preparing for its next big event, a Sept. 17 concert at St. Mary's Catholic Church featuring acclaimed tenor Ronan Tynan. Busch said 500 tickets have already been sold for the concert with 150 remaining.
For more information on the ORG, click here.