Medina Lions Club hears about ambitious projects at Bent's, old Medina High School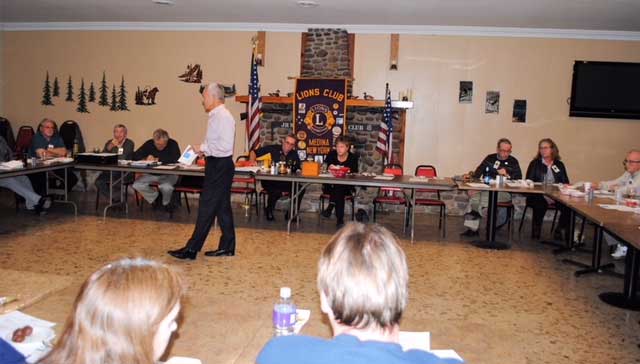 Provided photo
MEDINA – Roger Hungerford met with the Medina Lions Club on Tuesday to discuss the renovation projects at the Bent's Opera House and the former Medina High School. Hungerford was invited by Lions Club member Dave Belluci to share about the projects.
Hungerford, CEO and founder of Talis Equity, discussed "Impact Restoration," an initiative to build on the momentum in the community and the string of recent development projects in Medina's historic downtown district. Impact Restoration focuses on restoring buildings of community and cultural significance to positively impact the surrounding area.
Some of the current projects include the restoration of the Bent's Opera House and the old high school in Medina. Contingent upon approvals from the state and village, the buildings will be restored and renovated, over the next 18-24 months, with intentions to bring it back to its original luster for modern day use.
Plans for the old Medina high school include adapting it into a loft community known as Mustang City. Built in 1922, the building is solid and full of unique details, including hundreds of beautiful windows, wood floors found in the classrooms and interesting staircases throughout. Mustang City presents an opportunity to build apartments with amenities currently not offered in the area.
Bent's Opera House is remarkably well preserved and will be brought back to its original luster. While the third floor will be restored faithfully into one of the most unique wedding and event venues in New York State, the first and second floors will experience a dramatic redesign into a restaurant and modern boutique hotel space. The building next door, also included in the redesign, will be home to a market serving healthy options.
Readapting historic buildings to preserve rich history and redesigning the space into meaningful use is one aspect. The Impact Restoration developments compliment the area's overall resurgence. Bent 360°, a component of the Bent Opera House project, spotlights interesting places and authentic experiences in a charming small town.
This is an exciting time in Medina's story. Impact Restoration is proud to contribute to the many influences elevating the area, Hungerford told the Lions Club.