Medina kicks off winterguard season with competition in Orchard Park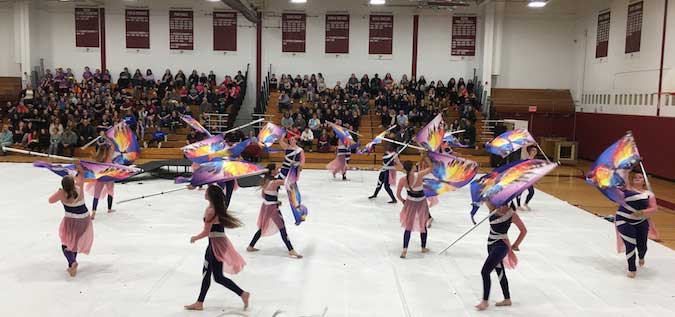 Photos and article courtesy of Medina Mustang Band
MEDINA – Medina opened its winterguard season on Saturday, competing in Orchard Park. The varsity guard is shown in the top photo.
Winter guard is a hybrid art form that combines elements of music, dance and military-like precision marching in a competitive arena into a total entertainment package. Winterguard started about 30 years ago and involves the manipulation (spins, tosses, flips) of equipment (rifles, flags, sabers) while moving around the performance space.
Medina is sponsoring two guard units this season – junior varsity and varsity. Both guards performed in competition for the first time this season at Orchard Park.  It was a large show with 26 guard units from around Western New York and Canada.
The junior varsity guard consists of 16 students in grades 5-9. Their show this year is "Reach for the Stars" and is about how each one of us has a big dream, places it in a star and sends it into the sky. In life you add more stars in the sky and reach for the ones you realize in life.
There were four guards in the junior varsity class and Medina took third place with a score of 50.66.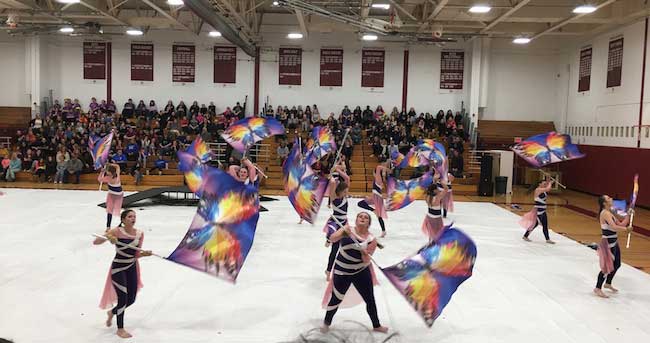 The varsity guard consists of 15 students in grades 9-11.  This year their show is "Metamorphosis"  about the decision to conform to what is around us or become the person you truly want to be. In the varsity class, Medina took third place with a score of 55.83.
Medina's next competitions are Feb. 8 in Victor,  Feb 15 in Batavia,  Feb. 29 at Marcus Whitman,  March 7 in Lancaster,  March 14 in Medina for its home show,  and March 21 in Jamestown. The championships are March 28 at Gates-Chili.