Medina hospital welcomes new high-tech medicine camera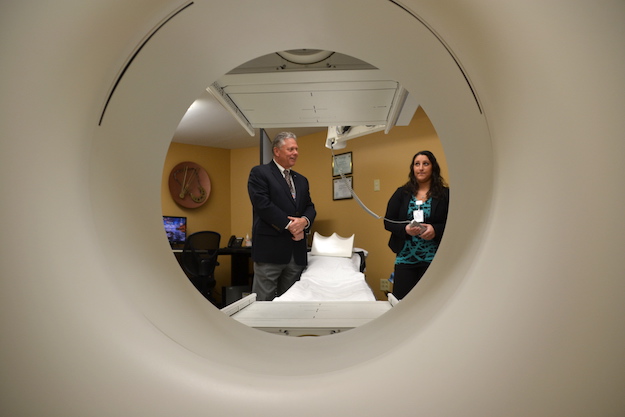 Photos by Tom Rivers
MEDINA – Orleans County Legislator Ken DeRoller, left, and Nicole Cummings, a nuclear medicine technologist, look over a new nuclear medicine camera for radiology this afternoon at Medina Memorial Hospital.
The hospital spent about $300,000 to acquire the new equipment that replaces one that was 16 years old. The new nuclear medicine camera does quicker scans, with half the radiation dosage. The scans are also more accurate, said Jennifer Maynard, the director of imaging and cardia services for the hospital.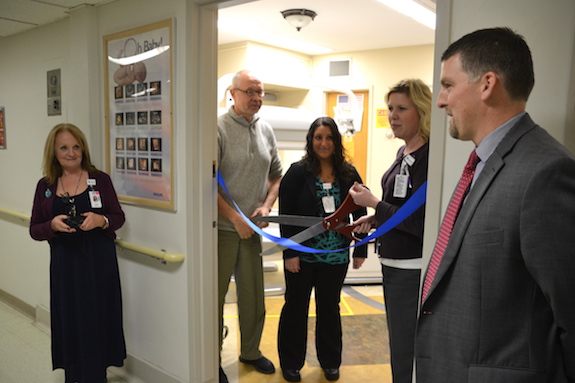 The hospital celebrated the new equipment with a ribbon-cutting today. Pictured from left include: Cindy Perry, director of Outreach, Education and Marketing for Community Partners; Dr. Dale Sponaugle, radiologist; Nicole Cummings, a nuclear medicine technologist; Jennifer Maynard, director of imaging and cardiac services for the hospital; and Sean Mulligan, CT and Molecular Imaging Product Sales Specialist at GE Healthcare.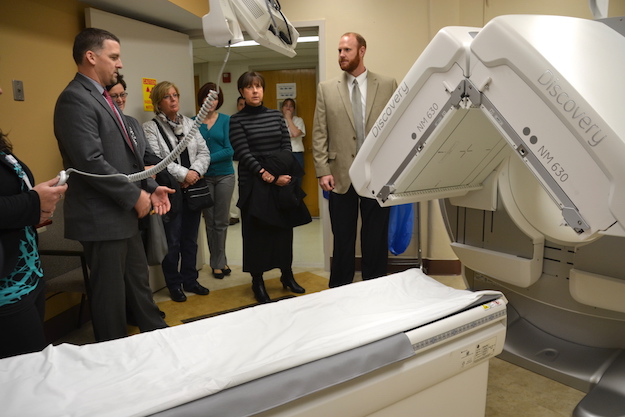 Local officials look over the new equipment. Paul Pettit, public health director in Orleans County, is at far right. He congratulated the hospital and its parent organization, Orleans Community Health, for the upgrade.
"I applaud Orleans Community health for the continued investment in bringing new technology to Orleans County residents," Pettit said.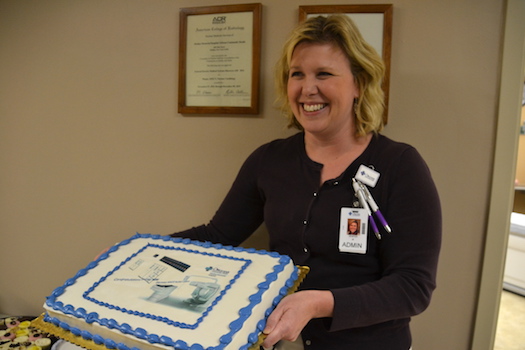 Jennifer Maynard holds up a cake to celebrate the new nuclear medicine camera. The equipment can be used to check for cancer, thyroid problems, heart conditions and other health issues.