Medina hospital employee celebrated on retirement after 44 years of work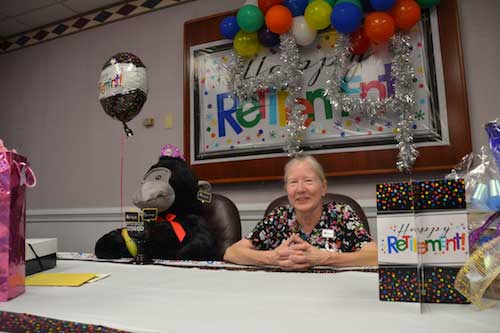 Photos by Tom Rivers
MEDINA – Anna Pittler is pictured today during a retirement party in her honor at Medina Memorial Hospital, where she has worked for 44 years.
Pittler works in housekeeping and has been a beloved member of the staff, said her boss, Sue Birch, the hospital's director of environmental services.
"She has been an exemplary worker for us," Birch said. "She is well-loved, and she is dedicated. She has missed no time."
Pittler, a Middleport resident, said she has made a lot of friends through the job among her co-workers and the community members who use the hospital.
"I've just kept pushing along," she said. "You meet a lot of people. It's not a bad job."
She remembers early in her career when the Blizzard of '77 hit and she was stuck at the hospital for three straight days and had to sleep in the lobby.
Her co-workers through a surprise party for her today, with about 30 people waiting in the board room for a party. Pittler opened the door, and the room was dark, before the lights came on with all the people shouting, "Surprise!"
Her co-workers went one-by-one, hugging Pittler, and thanking her for all the hard work over the years.
"When I first started, she made me feel comfortable," said Kathleen Paulsen, a co-worker the past nine years. "Her work ethic, her integrity is all spot on. She does her job well."
Paulsen said she received many birthday cards and other notes from Pittler.
"I'm happy for her on her retirement but she is going to be missed," Paulsen said.
Wendy Jacobson, the hospital chief executive officer, could count on a cheerful greeting each morning from Pittler, as well as the day's weather report.
Jacobson said Pittler is an example of the hard-working staff at the hospital, where the average employee has 20 years of service to the hospital, and some employees have followed their parents in working at Medina Memorial.
"We have very dedicated people here, who are dedicated to each other, the hospital and the patients," Jacobson said.