Medina Historical Society will display vintage wedding gowns on Saturday
MEDINA – The Medina Historical Society is opening its doors from 10 a.m. to 4 p.m. for Medina's Olde Tyme Christmas on Saturday.
In honor of the celebration, Georgia Thomas has created a display of vintage wedding gowns, loaned by members of the community and each having a story to tell.
Alice Zacher's gown was also worn by her sister and her best friend. It was given to the Niagara County Historical Society, who loaned it back for this exhibit.
Thomas' gown hangs next to her husband Terry's dress blues in the Museum. Terry, who was a career Army man, served during the Vietnam War era. They were married near Christmas on Dec. 19, 1964 at St. Mary's Church. Georgia's gown was white silk organza over taffeta with a long train with Chantilly lace border.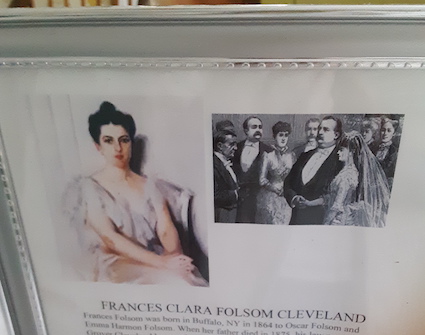 Francis Folsom is the most famous bride represented. She is the only bride to be married in the White House. She and President Grover Cleveland are the only couple to have a baby in the White House. Folsom lived for a while with her grandmother on North Main Street in Medina.
The exhibit includes a picture of Folsom in her wedding gown and a picture of the Christmas ornament from the White House Historical Association commemorating their wedding. Reports describe her gown as having real orange blossoms cascading down it. It is said that after her wedding, she made adjustments to her gown and wore it several occasions.
Catherine Cooper wore a gown of ivory lace with a handkerchief hem when she married Tim Cooper June 22, 1991 at St. Mary's Church.
Other gowns on display are the green gown Gloria McCauley Fierch wore for her marriage to local author Frederick Fierch, and the ivory satin sheath with square neckline, cummberbund with bow and matching train worn by Rose Anderson to her marriage to the owner of the local Ford dealer.
Another gown on display is that worn by Virginia Kropf of Medina at her first wedding Sept. 13, 1958. She purchased it at Carr's in Batavia. It is white satin with a mesh overlay adorned with sequined medallions, a mandarin collar and chapel-length train.
A gown of light olive green from 1860 is the oldest gown on display. It features an A-line skirt with train and ruching at the sleeves and hem. The gown was donated to the Historical Society more than 20 years ago by the late Nancy Berger.
The final gown in the collection is the newest arrival at Blissett's, which loaned it to show what the bride of 2023 will be wearing.
Thomas explained that extreme care is taken when handling the vintage gowns. Gloves are always worn, because the oil in your hands can do permanent damage to the fragile fabric.
Punch, cookies and a wedding cake by Hans Rosentreter will be served during the day.